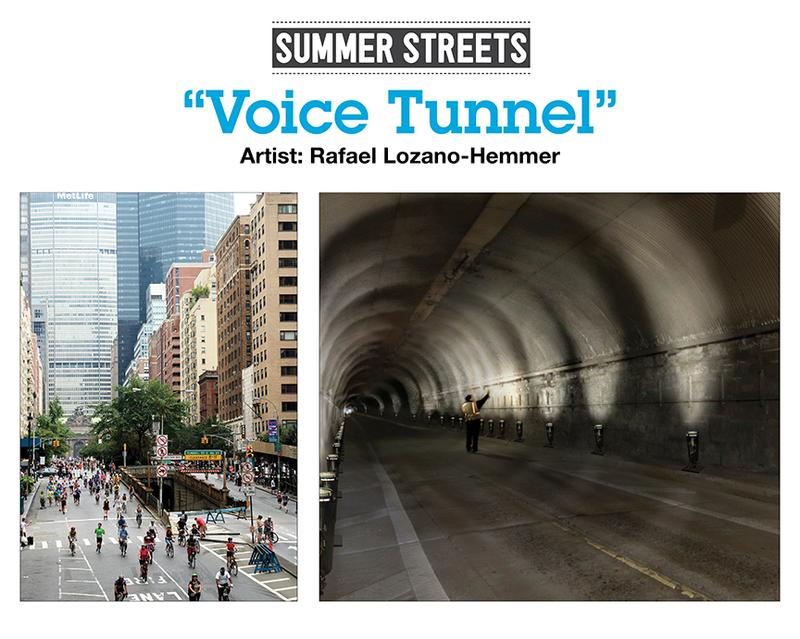 NYC Summer Streets kicks off Saturday. The annual event bans cars for roughly seven miles of major streets between the Brooklyn Bridge and Central Park. This year, one of the highlights is an interactive sound and light installation in the typically cars-only Park Avenue Tunnel.
Rafael Lozano-Hemmer, a Mexican-Canadian electronic artist, makes grand projects designed to delight. Part architecture, part performance art, he invites the general public to play with the spaces around them. 
With Voice Tunnel, pedestrians will roam through the seven blocks of the (usually cars-only) Park Avenue Tunnel immersed in the echoing voices of their peers drifting away toward the daylight at either end.
"Being able to take over a space which is normally kept out of bounds and populate it -- ultimately I think it's really important for people to take ownership of their city," he says.
When asked to describe the experience, he explained "you see 300 theatrical spotlights illuminating the walls and the cladding, the ceiling of the tunnel blinking or glimmering with these kind of light archways. And all of these are reacting to the voices of New Yorkers," Lozano-Hemmer tells WNYC.
Speakers are spread throughout the 1,400 foot tunnel. "So it's not a cacophony," he says. "The voices are quiet. They're more like little memories of the tunnel." 
Listen to the the interview above for more details on how the installation works and why Lozano-Hemmer believes the drifting voice is can move people underground. 
Summer Streets -- and the Voice Tunnel -- run the next three Saturdays from 7.a.m. to 1 p.m. Full details here.