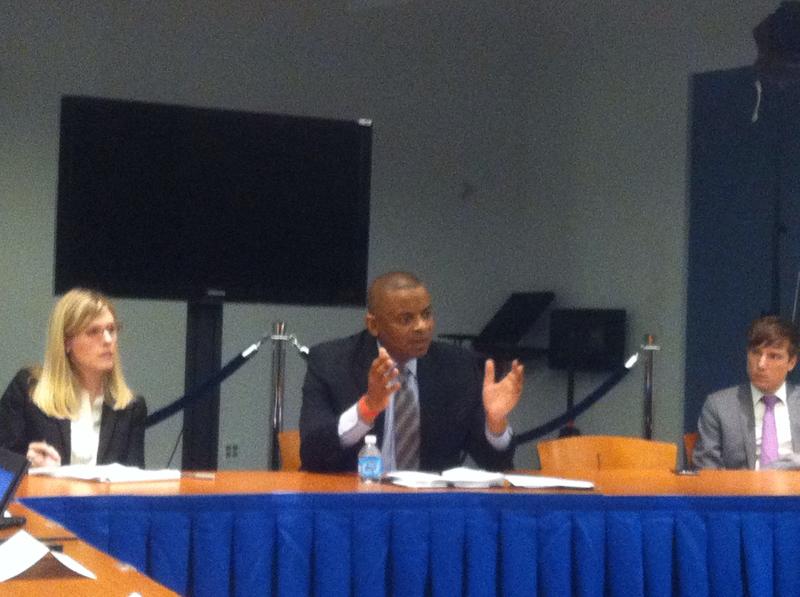 In an hour-long conversation with reporters, the new U.S. Secretary of Transportation Anthony Foxx fielded questions on topics from transit repair to funding challenges (spoiler: he says the feds can't do it all). But don't try to pin him down on the gas tax.
Here's an excerpt from the Q&A:
Q: Are you prepared to ask Congress to reauthorize federal legislation to fund Metro's rehabilitation, now in the third year of a ten-year, $3 billion program, when it expires in 2020?
Sec. Foxx: Not only am I prepared to, the President a couple days ago announced a bold initiative to focus on maintenance and state of good repair across the country. He sees as a critical priority, as do I. These types of issues aren't just present in the metro D.C. area. They are all over the country. And in some cases it's transit, in some cases it's highways, in some cases it's bridges. The president has proposed linking this type of infrastructure investment to improve the state of good repair to corporate tax reform, and his hope and mine is we can see some progress made on that.
Q: Is it too early to start pushing for the reauthorization?
Sec. Foxx: What you are pointing out is a much larger challenge of transportation, which is local communities, be it here or in Peoria, are having a tough time figuring out how to plan long-term because of uncertainty at the federal level. So the more we can provide a road map at the federal level for how we plan to play in not only state of good repair but in transportation, period.
Q: What is your impression of how Congress is dealing with transportation funding?
Sec. Foxx: I am confident that on a bipartisan basis Congress understands we need to figure this out. There needs to be – and I think there is, quite frankly, in some corners – recognition that sequestration is going to be a tough blow. More broadly, on the longer term questions of funding, there is bipartisan recognition that we have to do something. There is not agreement on what that something is.
Q: If the president and congress refuse to raise the federal gas tax, how will the federal government secure sustainable transportation funding instead of one-time infusions?
Sec. Foxx: There is a lot of conversation on Capitol Hill now about what to do long-term. I think that we're going [need] a lot of tools in the toolbox. That's one of the reasons why the president has proposed an infrastructure bank and congress expanded programs like TIFIA. But we can't really, given the scale of need just to keep our maintenance up within the trust fund… those things are helpful additions but I don't think they can do it all.
Q: What would you advise states and cities do about their structurally deficient bridges without new money coming from Washington?
Sec. Foxx: Innovations are happening at the state and local level. Chicago is working on an infrastructure bank and is building a model that adds another tool in the box. You see states like Maryland, Virginia and others that are proposing some pretty bold programs to get infrastructure built and voters have actually approved of those. So I think there is a sense in the states and local governments that they've got to step up a little bit more, but there is still a major role for the federal government and I know the president believes that deeply.
Q: Shouldn't the federal gas tax be raised?
Sec. Foxx: It's a question that I think has to be addressed as part of a dialogue. Congress is going to have to have some discussion about it. I think the president's put some ideas on the table and there he has a willingness to hear some other ideas.
Q: Do you think it should be raised?
Sec. Foxx: I think we have to have a very vigorous discussion between the administration and our leaders on Capitol Hill about how to move forward.
Q: How do you feel about the potential drawbacks of public-private partnerships? For example, some taxpayers do not approve of giving up a public asset like a highway to a private entity to run it for profit.
Sec. Foxx: As mayor I had a lot of opportunities to do public-private partnerships and I don't have a visceral fear of them, if that is what you are asking me. I think that what we should do at the federal level is to have as many different tools in the toolkit as we can, to try to address the substantial infrastructure challenges our country face.
If you go down to the local and state levels what you will see are different types of revenue capture like tolling. You see revenue capture from land development alongside transportation assets. Those are all tools that need to be part of the mix. But what I will continue to impress upon you is I don't feel that every single project that needs to happen in this country is one that will be attractive to the private sector. There are some that are just public good projects.