Last Chance Foods: Arugula By Any Name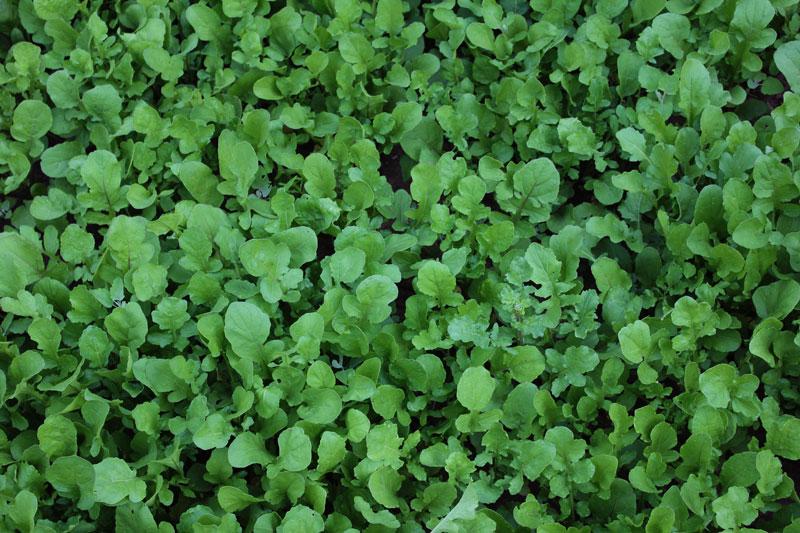 It's known as roquette, salad rocket, or, more scientifically, eruca sativa, but whatever you call it, arugula is a flavorful green beloved all over the world.
Arugula was so important to musician Nick Palumbo's grandfather, that he brought the seeds with him to America from his hometown of Manfredonia in Italy's Puglia region. Fast forward several decades, and that arugula is the source of the greens growing in chef Paul Gerard's backyard at Exchange Alley, a New Orleans–inspired restaurant in the East Village.
"It just seems kind of strange that, you know, when you're a 16-year-old kid and you're going to a new country that that would be one of the things you would say I need to take with me... like your lucky rabbit's foot and your arugula seeds," Gerard said with a laugh.
The seventh-generation Brooklynite admitted that he initially had doubts about his ability to keep the plant alive—or whether it was alive at all. "[Nick] showed up one day with a small pot and it had some dried sticks coming out it," Gerard recalls. "And he said, 'Here you go, put it in the ground.' And I said, 'What is this? It's like Charlie Brown's Christmas tree. You know, it's dead.' He said, 'Put it in the ground.'"
After watering it for about three weeks, the arugula started growing and hasn't stopped. Gerard said it even made it through the heat wave a few weeks ago, and he has a regular supply to use in his restaurant.
"The arugula that I use, I always tell my cooks not to pepper it, because it's already got enough," he added. "It's all about balance and texture and depth, you know, so I'll go for things that are a little more vinegary, a little more salty."
Gerard, who spent 15 years living in New Orleans, said that his misses a lot about his old stomping grounds, including the hot weather. While he often forgets to eat during the hotter days of the year, Gerard did offer some advice on combating the heat: Stay hydrated—preferably with water, as opposed to his old go-to, bourbon.
As for fighting hunger on warmer days, try Gerard's arugula salad recipe below.
Garden Greens, "Bread & butter" Pickled Rhubarb & Cows Milk Cheese
by Paul Gerard, Exchange Alley 
For 4 
1 pound of your favorite local market greens. Here at Exchange Alley, we use a mix of arugula, spicy micro's, and a touch of fresh herbs from our garden.
3-4 tsps of a big, fruity extra virgin olive oil
Salt and fresh pepper
4 ounces (1 oz per salad, or generous shavings with a vegetable peeler) of your favorite local cheese. At Exchange Alley, we use "Rupert" from Consider Bardwell farm in Vermont. An aged, raw Jersey cow milk cheese inspired by great European Alpine cheeses like Gruyère and Comté
around 12 pieces of pickled rhubarb (recipe below)
2-3 tsp pickling juice
Put greens and rhubarb in a large mixing bowl, add a touch of the pickling liquid and a touch of olive oil.
Greens should never be weighed down by the dressing. It should be just enough "to shine" the leaves. You don't want a wet salad, so always add half of what the recipe may call for, toss season, taste, and add more if necessary.
Crucial cooking tip: You can always add more, you can never take away. 
Divide the salad into 4 chilled plates or bowls, and top with shaved cheese.
Rhubarb Bread and Butter Pickles
Rhubarb- peeled and sliced on bias approx 2" long
onions sliced
4 cups sugar
3 cups vinegar
1 cup water
1/3 cup plain salt
1 1/2 tsp each turmeric, mustard seed and celery seed
Combine sugar and vinegar in small saucepan over low heat to dissolve sugar.
Add spices.
Pack sliced rhubarb and onions in quart container very tight, add liquid and spices, seal and refrigerate. It's very important to make [these pickles] in mason jars. Rhubarb should not be floating in vinegar.