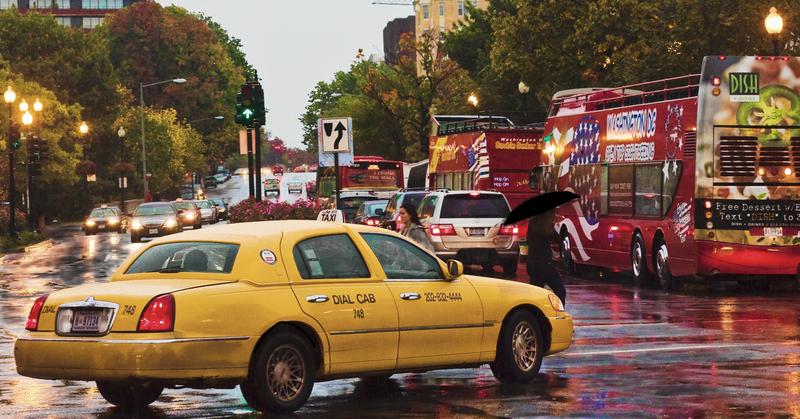 Passengers will eventually be able to pay a taxi fare with a credit card in Washington—just not this month, as originally planned.
Citing the slow pace of installations, the D.C. Taxicab Commission is delaying -- again -- the deadline for all cabs to accept credit card payments by one month to September 30 -- provided they have a good reason.
DCTC chairman Ron Linton said without a legitimate excuse, the old deadline of August 31 will still apply to drivers.
"There have been circumstances in which the ability of payment service providers to deliver the hardware or to make the arrangements has delayed the owners of cabs to meet the deadline through no fault of their own," said Linton, who also faulted some individual taxi owners for holding up the process.
"Unfortunately, we are getting too many instances where it appears the taxicab owners simply are not doing what they have to do to make this work," Linton said. "They are not keeping their appointments for installations. They are not responding. They are not paying attention. We need to have them understand we are deadly serious they have to do this if they want to stay in business."
No more excuses
In order to receive the time extension to install a credit card payment machine, a taxi owner's chosen payment service provider (and eight PSPs have been approved to operate in the District) must provide the Taxicab Commission written proof of a scheduled installation. The deadline to apply for an extension is August 15.
"We will begin impounding vehicles that have not met the deadline and have not gotten their extension on Sept. 1," warned Linton, who said this will be the last delay in a process the public has been waiting years to see come to fruition. Polls have shown overwhelming support for credit card acceptance and other modernization proposals for Washington's decrepit cab fleet.
Of the District's roughly 6,500 licensed taxicabs, fewer than 1,000 have installed credit card payment machines, Linton said. The chairman hopes close to 3,000 will be installed in August and the remaining in September. And if the PSPs and taxi owners are still dragging their feet come late September? "There will be a reduction in the number of vehicles on the streets for service."
D.C.'s taxi landscape
Roughly 1,500 D.C. taxicabs are individually owned and operated, unaffiliated with any company. Of the remaining 5,000 cabs, about 3,000 are owned by the drivers and affiliated with any of the 116 taxi companies licensed in Washington. About 2,000 are owned by taxi companies and leased to licensed drivers on a weekly basis, Linton said. A taxi company in Washington usually owns at least 20 vehicles.
One tech startup that intends to have its credit card devices in many D.C. taxicabs saw the delay coming. Sanders Partee, the founder and CEO of Alexandria-based TaxiMagic, said the August 31 deadline was a bit ambitious for a city with 116 taxi companies and little experience with credit card acceptance.
"This is a tremendous logistical challenge in terms of just procuring the equipment, signing up the drivers, installing the equipment, testing it, getting it all rolled out," Partee said.
The challenge for PSPs
In an interview with WAMU 88.5, Partee provided a glimpse of the challenges tech companies face in the Washington market.
He estimates an individual driver would have to gross $2,000 per month in credit card receipts to make the system viable for everyone involved, including the payment service provider who has invested heavily in the credit card devices that will also accept payments through smart phone apps. He says part-time taxi drivers who may only take their vehicles out on the road two or three days a week could be squeezed out of business, forced to work more hours, or affiliate with a fleet that leases cabs instead of owning one individually.
"Our challenge is vetting and underwriting individual cab drivers in the District," Partee said. "The business model in D.C. is one where we lease equipment to drivers. And when we lease them that equipment, we are putting a lot of assets on the road in individual cars, and so we need to have some sort of comfort that our assets are protected and they are productive."
It comes down to an arcane term heard in the offices of tech startups: asset utilization. Unlike New York City, where all 13,000 yellow cabs are on the road 24 hours per day, split into two 12-hour shifts, D.C. taxicabs often sit in the owners' driveways for hours on end.
"If you have a car that you are not using very often, then putting an expensive credit card machine in that car will drive up your cost of credit card acceptance. It will cost that driver more on average per ride to take credit cards than it would someone else. The higher the volume you do, the lower the actual price per ride," said Partee, referring to the processing fees that take a bite out of every fare.
"There are two risks that we have in [the D.C.] market. One is the driver is not going to do enough volume and, two, the asset may drive away to some other town and I'll never see it again."
To compensate drivers for credit card processing fees, the D.C. Taxicab Commission tacked on $.25 to the base fare. Another $.25 will be collected by the Commission to fund the fleet modernization, bringing the amount passengers will pay the moment they step foot in a cab with a credit card machine to $3.50. The current base fare is $3.00.
"I often talk about cheerful credit card acceptance," Partee added. "If any D.C. cab driver cheerfully accepts credit cards they will have no problem meeting our minimum standards or making a deal where they are not paying an exorbitant amount."