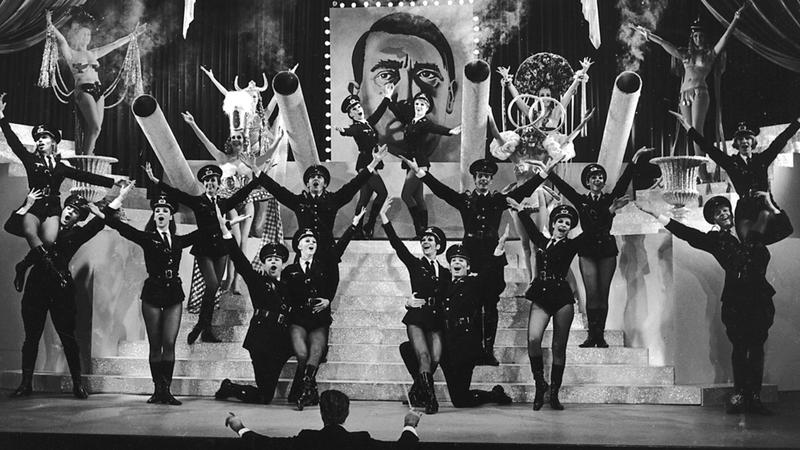 In his book I Wear The Black Hat, -- and on today's Soundcheck -- author Chuck Klosterman grapples with villains, both real and imagined. These figures range from the comic (Andrew Dice Clay) to the comic book (Batman), stopping along the way to look at serial killers, disgraced politicians, and athletes. And as Klosterman fans might expect, music comes up often.
At the end of the book, he finally wrestles with the idea of including Hitler in his book of villainy. 
On the one hand, writing about Hitler is obvious and possibly superfluous. On the other hand, how do you write about villains and leave out the man who for most of us defines evil? Klosterman's solution is to write about writing about Hitler, quoting two songs: "God On Our Side," an early Bob Dylan number, and "Quicksand," an early David Bowie song. 
That sent me down an unexpected path, and I found myself assembling a list of half a dozen songs -- some dark, others playful -- that deal with Hitler. Or perhaps, that deal with dealing with Hitler. The first two are from Chuck Klosterman, the others are mine.
Bob Dylan, "God On Our Side" 
As Klosterman says, Dylan is the ultimate unreliable narrator, except for when he deals with Hitler: He doesn't want anyone misunderstanding him here:
    When the Second World War
    Came to an end
    We forgave the Germans
    And we were friends
    Though they murdered six million
    In the ovens they fried
    The Germans too
    Have God on their side
David Bowie, "Quicksand" 
I thought Chuck was reaching with this one, and he seems to admit as much in the book. Yet the song references living "in Himmler's sacred realm" and being "living proof of Churchill's lies." So there are at least some hints to back up his assertion that this is Bowie imagining Hitler's final thoughts:
Don't believe in yourself

Don't deceive with belief

Knowledge comes with death's release
Boomtown Rats, "I Never Loved Eva Braun"
Before he was knighted for his tireless organizational efforts at Live Aid and ending hunger in Africa, Bob Geldof wrote about a school shooting in "I Don't Like Mondays" and this strange but catchy little song. Yeah, he essentially says, I did a lot of bad things, but Eva Braun? C'mon man, I may have been a psychopathic mass murderer but give me some credit.
Kate Bush, "Heads We're Dancing"
It's "39, before the music started," and she's had a great time dancing with this guy who seems very old-world elegant and courtly -- until she sees a picture of him in the newspaper with the caption reading "Adolf Hitler."
    It couldn't be you, it couldn't be you!
    It's a picture of Hitler. 
Radiohead, "Karma Police"
Thom Yorke's second verse starts with this line:
    Karma police, arrest this girl
    Her Hitler hairdo
    Is making me feel ill
It's typically elusive writing from Yorke, but the Hitler angle comes through loud and clear.
Peter Gabriel, "Games Without Frontiers"
Peter Gabriel's song imagines a kind of Model U.N. where all the kids play at war.
    Suki plays with Leo; Sasha plays with Britt
    Adolf builds a bonfire; Enrico plays with it
Adolf starts a war, and Enrico (Benito Mussolini?) joins the "fun." I suppose if I spelled the name "Adolphe," this interpretation might fall apart. But I think Gabriel -- whose songs have included the viewpoints of Arthur Bremer, who tried to assassinate Gov. George Wallace ("Family Snapshot") and a serial rapist ("Intruder") -- has never shied away from exploring the dark side of the soul.