SchoolBook
City Holds First-Ever Tech Summit for Educators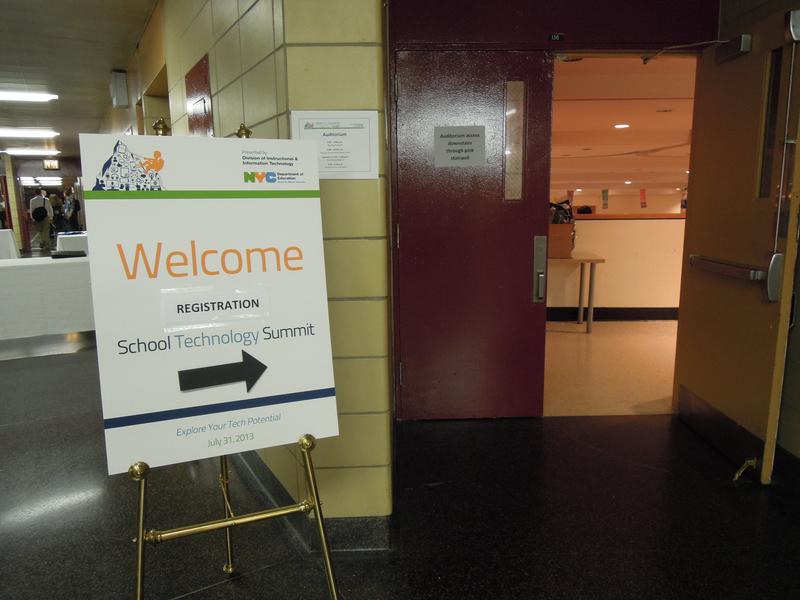 In a large school system where the technology spectrum varies widely — for example, some teachers may be hesitant to embrace new gadgets while other classrooms have iPads for every student — the city is trying to bring together on-the-ground experiences and new ideas for using mobile devices and interactive technology that help students learn.
The Education Department held its first technology summit Wednesday for about 400 school staff members at Murry Bergtraum High School for Business Careers in Manhattan.
Marcia Young, a law and government teacher at I.S. 59 Springfield Gardens, says students at her school all use iPads, but the school could be making better use of them. She wants more things to be done electronically, she said, from assigning homework to grading papers to building students' electronic portfolios.
The challenge is making sure teachers and administrators embrace the technology. Young, who is 52, said she had to make the "mindset change" herself.
"The kids are born tech-friendly," she said. "So the idea for me being here today is to how to get the teachers more on board."
Participants spent the day in workshops on topics like accessing online content and using technology to develop literacy skills or engage with parents.
Jason Levy, the deputy chief information officer within the Department of Education, said the idea behind the conference was to have educators become comfortable with the idea of embracing technology as something that will constantly change, and as a necessary, if not inevitable, element of educating students.
"It's hard to argue that you can prepare adequately for careers in the future with an education that's absent of technology," he said.
He acknowledged that the city is exploring ways to allow students to bring their own devices, like smartphones and tablets, to school. Currently, cell phones are not allowed in school buildings.
But the first priority in getting schools ready to embrace new tech, he said, is even more basic: getting all schools secure, high-speed internet connections. The D.O.E. said that of more than 1,700 schools, about 250 still need upgrades.