One NY Artist: Iradj Moini
There are thousands of artists in New York City. Some are famous. Others scratch out a living while perfecting their craft.
Here, Iradj Moini. He is showing his holiday and resort collection at an accessories trade show through Sunday at the Javits Convention Center. He's got a boutique in SoHo. And some of his most eye-popping designs are at the Museum of Arts and Design, in its exhibit, "Fashion Jewelry: The Collection of Barbara Berger."
"My jewelry is like a process," he said.  "I improve all the time."
 Moini is from Iran.  He came to the United States in the 1980s to go to school for architecture.  
"I wanted to study fashion, but it was not allowed" by the government of Iran, which, Moini explained, would only permit his parents to send him money for his foreign education if it was in a field of study that was "productive."  
Undaunted, he fiddled with making jewelry on the side, copying the pieces he admired in the 1980s collections of Yves St. Laurent.
"His modernism, his respect for women, and the fact that he realized style doesn't change, only material changes...I would call him Saint Yves Laurent, because he was such a god for me," Moini said. 
Moini said the first piece he sold was a copy of a St. Laurent.  But he quickly became bored imitating other designers' work, and started following his own creative leanings.  His necklaces, rings and earrings are often built around big, statement stones of turquoise, citrine, aquamarine and fluorite.
"I love costume jewelry because it has so much character, you know?  It has so much life of its own.  And it's so loud, and it's so expressive."
His costume jewelry is coveted by collectors, but he said he designs for himself.  Just as he did when he wanted St. Laurent pieces, but could not afford them.
"I love what I do because I want it for me,," said Iradj Moini.  "Every piece I make, I don't care who's going to war it because I care about me.  Because I want to have it.  I want to have it."
To listen to the whole piece about Moini, click on the audio link above.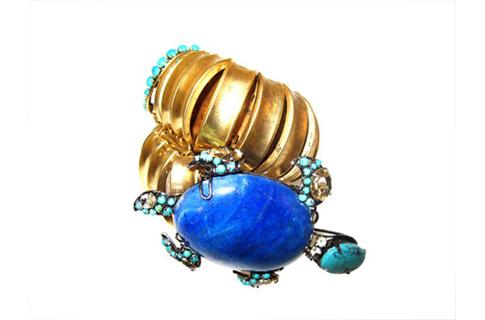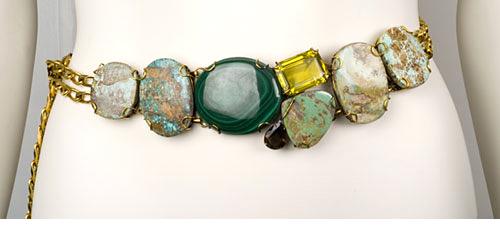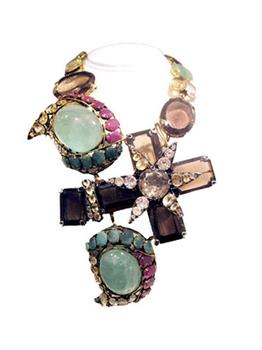 of