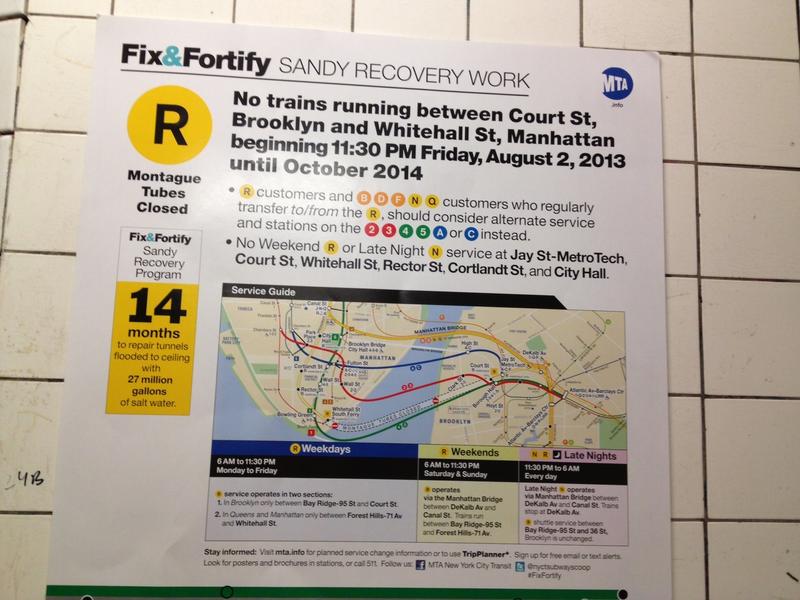 The coming outage of the R train tunnel under the East River will inconvenience straphangers from Bay Ridge and Sunset Park. A ferry will serve as a low-cost option, but not for very long. 
Starting Monday, the Rockaway Ferry will make an extra stop in Sunset Park to scoop up Brooklynites affected by the coming subway tunnel work.
The Montague Tube, which carries the R train between Brooklyn and Manhattan, will close Friday for fourteen months so the MTA can make extensive Sandy-related repairs.
"Building upon our existing Rockaway Ferry service will provide a critical transit option to assist Brooklyn residents during disruptions to the R train," said Mayor Bloomberg in an emailed statement.
The ferry will stop at the Brooklyn Army Terminal on 58th Street in Sunset Park and Whitehall Street in Manhattan on weekdays. One-way fares will be $2.
But there's a catch: right now, ferry service is scheduled to terminate on Labor Day.
Currently, the city's Economic Development Corporation is subsidizing the cost of the Rockaway Ferry, which is operated by Seastreak. "Since November, the city has committed approximately $3.5 million to this service," said EDC spokesman Patrick Muncie. He said ridership has been strong. "There's been demand—we've extended it twice"—but the ferry's post-Labor Day future is unclear right now. 
Muncie said the ferry has made 107,000 passenger trips since it started running after Sandy.
In an email Tuesday, City Council Speaker and mayoral hopeful Christine Quinn said she was pleased by the "pilot program to extend ferry service to Southern Brooklyn," and that she "will work alongside my colleagues to ensure ferry service continues beyond the initial trial run."
R train riders can also transfer along the last four stops in Brooklyn to 11 other subway lines; check out the MTA's R train page for more information. And live in Bay Ridge? Express bus service on the X27 will increase by 25 percent.