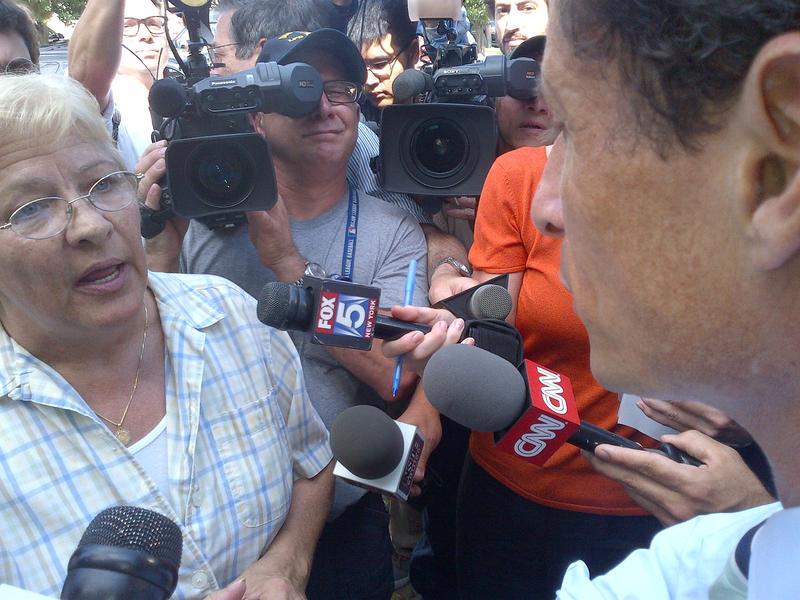 Former congressman Anthony Weiner has vowed to continue his mayoral bid despite mounting criticism over the latest sexting scandal.
National figures like House Minority Leader Nancy Pelosi and former Obama adviser David Axlerod have called his behavior absurd. His opponents call him a distraction. But Weiner says he wants voters to decide, even though the latest Quinnipiac poll shows he's in fourth place.
Every day, reporters ask Anthony Weiner about the future of his campaign. Now voters are asking the same thing.
"I don't quite understand how you would feel you would have the moral authority as the head administrator in this city to oversee employees when your standard of conduct is so much lower than the standard of conduct that's expected of us?" said voter Peg Brunda after a press conference on Friday in Staten Island. A retiree of the city's department of education, Brunda said a teacher would be fired for the type of behavior Weiner engaged in.
But Weiner has vowed he's staying in the race, even though his campaign manager quit over the weekend and his wife, who publicly defended him last week, has been absent from the campaign trail since. Huma Abedin is an aide to Hillary Clinton, which has many asking: What if the Clintons asked him to bow out?
Wener deflected that question at a mayoral forum in the Bronx last night. "I am not terribly interested in what people who are not voters in the city of New York have to say," he said. "I am focused like a laser beam on their interests, I'm focused like a laser beam on what they care about."
In that Quinnipiac poll where Weiner sank to fourth place, 65 percent said his admitted sexting and accompanying photos is a campaign issue they care about.