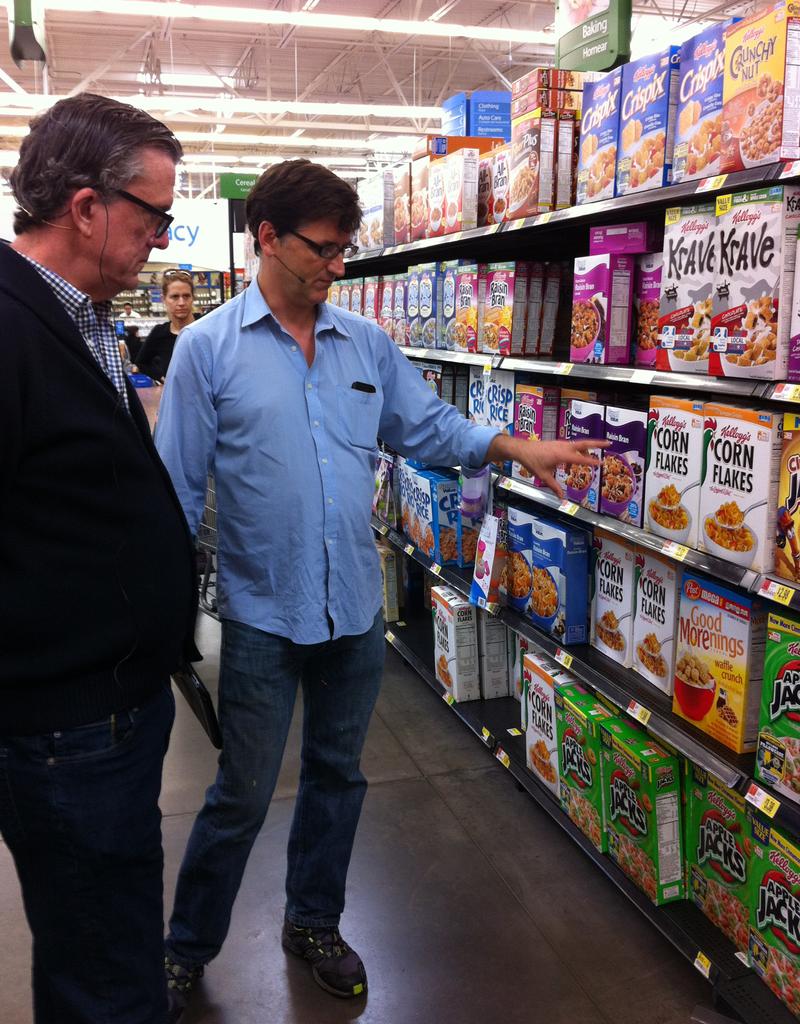 When Brendan O'Connell set out to paint everyday life, he wanted to paint real everyday life. That is, he went shopping. And he found in America's biggest big box store a source of artistic inspiration that's lasted him a decade and counting. O'Connell has visited and photographed over three dozen Walmarts, painting hundreds of lush, impressionistic pictures of the products and people he finds in the stores' aisles. Kurt Andersen joined O'Connell at a store in North Bergen, New Jersey.
O'Connell isn't painting Walmarts as a critique of consumer culture. He wants his work to ask questions, not give answers. "If you leave it in the ambiguous zone where people take away what they want to take away from the image, it's much more interesting than having an agenda or an ax to grind." Andy Warhol's consumer paintings have been an obvious influence, but O'Connell brings a warm, handmade quality that's largely absent in Warhol's work.
The paintings within O'Connell's Walmart series vary greatly. Some pictures are spare, full of empty space, providing the viewer with a minimal amount of visual information. Others are much more detailed studies of the patterns and vibrant graphics found in rows of Jif peanut butter jars or bags of Cheetos. He notes that giving his work the specific focus of Walmart allows him to play more creatively with painting techniques — utilizing a variety of styles such as figurative, abstract, and actionist.
At its core, O'Connell's work uncovers beauty in unlikely places and holds a generous mirror up to our everyday modern existence.
"Our attempt to find and construct beauty and order out of things, I think we always have that impulse," O'Connell says. "So, even this huge curated space that is disorienting, our eye wants to simplify and focus. Even if it's unconscious, we want to experience beauty."
Slideshow: Paintings from Brendan O'Connell's Walmart series