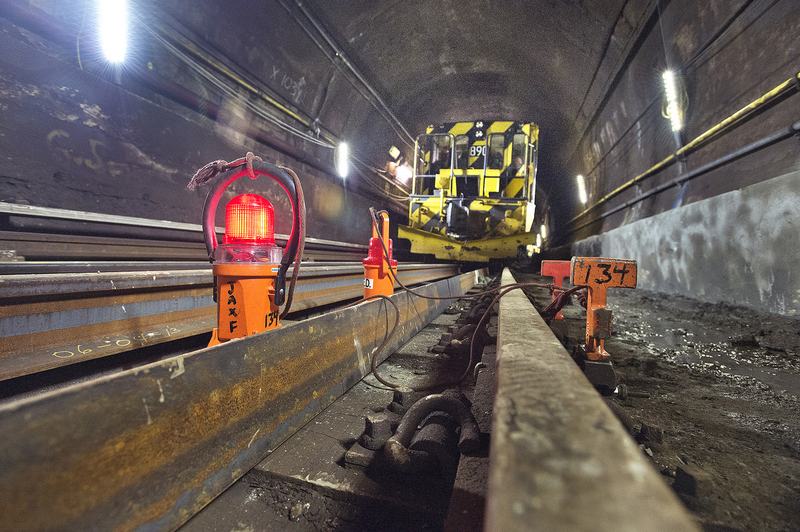 Of the 20 New York subway lines, 18 will be affected by track work this weekend, hindering transportation around the five boroughs on what looks likely to be the first halfway decent weather weekend in a month. Here's the deal. 
MTA spokesperson Adam Lisberg concedes it is a considerable amount of track work for one weekend, but says it's for good reason: "We do a lot of work in the summer when the weather is better, and everything we do is vital to keep the subways working at high levels of reliability."
He also pointed out one reason why it might just seem like more work than usual. "There was a time when most people just rode the subway to work and back during the week, and doing repairs and improvements on nights and weekends kept the disruption to a minimum. Now we're victims of our own success, as weekend ridership has skyrocketed – but the work still has to get done. We're sorry for the inconvenience, but the payoff is a more modern and reliable subway system." (This is partly because millennials have different ridership habits.)
So what's not running? First, take note that this is the rare weekend when G train riders don't have something to complain about. The 6 and the G trains are operating normally. Nothing else is. 
Full details are at the MTA's website, but the biggest changes are ... 
4/5 Trains run local in both directions from Grand Central to Brooklyn Bridge. Expect a slower ride through downtown. 
N/R trains run on the Q line between Canal and Dekalb. That means they skip a bunch of stops from City Hall to Jay Street-Metrotech.
And the D/N/R Trains skip some stops in Brooklyn.  Toward Coney Island/Bay Ridge  trains skip Union St, 4th Av-9th st, Prospect Ave and 25th st. 
The Q has a bunch of Manhattan-bound platforms closed in Brooklyn.
J Trains don't run full line: No service between Mrytle and Broadway Junction. Try the L or a shuttle bus. J trains are also re-routed at Myrtle to/from Metropolitan as a replacement for the M. 
Except the L train only runs every 24 minutes between Broadway Junction and Rockaway Pkway. 
F Trains skip stops, Jamaica/northound trains skip 14th and 23rd streets making connections with the L harder.
A/C Trains run via the F on Downtown/Rockaway-bound trains from West 4th St to Jay street. A line riders are used to this, but it's still a hassle. A trains also run local northbound after 125th Street.  Southbound E Trains skip 23rd and Spring Streets. 
7 Train skips stops. Flushing bound: 33rd, 40th, 46th, 52nd, 69th streets and runs along one track for much of the line so make sure you are waiting on the right platform. 
1/2/3 Trains have minor re-routing. Southbound, trains skip 66th, 59th and 50th streets. (Catch uptown trains from 42nd St instead.)
2 Trains won't stop at Wakfield-241st St. On the upside: 3 Trains run farther south than usual to 34th street. 
And ... the M fares well, just one station out, Central Av. (Note: J trains replace the M between Myrtle and Metropolitan)
But on the plus side, you can still take the A train to the beach.
Good luck out there.