Last Chance Foods: Appreciating Apricots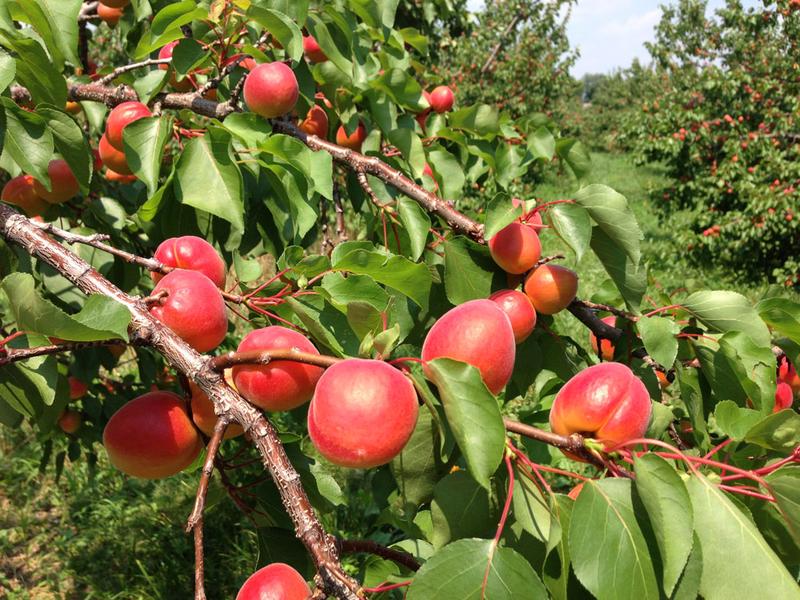 If you happen to pass by a pile of apricots at a farmers market in the New York area, take a little time to appreciate the combination of skill and luck that brought them to harvest. While California produces a bounty of the fuzzy little stone fruit, locally grown apricots are a comparative rarity and the season is short. Red Jacket Orchards senior orchard operations manager Mike Biltonen expects that this year's local apricot season will wrap up around the second week of August.
"There's some very good, sound horticultural reasons why apricots are not grown more widely, basically, north of the mid-Atlantic area," he said. The fruit, which originated in Middle Eastern climates, struggles with the long winters and variable temperatures of the region. Just a few warm days in January or February can trigger the budding process.
"That leaves them vulnerable both in the winter and early spring for both cold damage and early spring cold frost like we had last year," Biltonen said. "If you're a fruit farmer and you're willing to take a few risks and you want to try and grow some apricots, [harvesting a crop] about four out of 10 years would be considered a success."
That's a ratio that carries a high degree of uncertainty, but Biltonen said that Red Jacket Orchards produces the most apricots in the region in part because of its location. The farm is in Geneva, N.Y., on the shores of Senaca Lake. He explained that the microclimate around the lake keeps temperatures moderate so that the trees don't freeze as easily or warm up too quickly. But even that doesn't guarantee a yield of apricots every year.
"We have a successful apricot [harvest] every 6, 7, 8 years, and there will always be a year like 2012 where we get hit [and lose the crop]," Biltonen said. Fortunately, this year's apricots are coming in strong, which increases the chances of getting a perfect specimen.
Biltonen explained that speed is key to avoiding a mealy apricot. They fruit doesn't ship well and has a short shelf life. "Even a local apricot that's been around too long is going to be mealy at some point in its life," he said. "So, the closer you can get them to local, the better off they're going to be, and the sooner you can get to when they were picked, the better off they're going to be."
Feel and color provide important clues as to the ripeness of the fruit. "If you're out shopping for apricots, the best way to find one that's not mealy is to actually pick it up and give it a little bit of a squeeze," Biltonen said. "You want one that has a little bit of a give to it, and that'll tell you there's probably about 48 to 72 hours before it will get to that mealy stage."
While apricots aren't uniform in color — some varieties have a reddish blush while others don't, for instance — he said to look for fruit that has rich yellow, orange, or red colors. Avoid anything that has hints of green or brown.
Once you get them home, Biltonen said to keep them on the counter and eat them within a day or two. Below, cookbook author Domenica Marchetti provided a fast, easy way to enjoy apricots.
From NPR: Broiled Apricots With Honey Mascarpone
By Domenica Marchetti, Domenica Cooks 
This is the dish to trot out when you have no time to make dessert but still want to serve one. It takes less than 10 minutes to assemble from start to finish but I can assure you no one will be disappointed. Broiling the apricots concentrates their sweet-tart flavor. A dollop of honey mascarpone on top adds just a touch of richness. If restraint is your thing, use non-fat Greek yogurt in place of the mascarpone.
Makes 4 servings
8 tablespoons mascarpone cheese
2 tablespoons honey
6 ripe apricots
2 tablespoons butter, cut into 12 pieces
2 tablespoons sugar
Dash of cinnamon
Position an oven rack 4 inches from the broiler and turn the broiler on.
In a small bowl, whisk together the mascarpone and honey until well-blended. Set aside.
Gently pry the apricots in half or use a paring knife to split them open. Remove and discard the pits.
Set the apricot halves, cut side up, on a small, rimmed baking sheet or shallow broiler pan. Place a piece of butter in each of the apricot cavities. Sprinkle the sugar on the apricot halves and sprinkle a little cinnamon over each half.
Broil the apricot halves for 3 minutes, or until the sugar begins to caramelize and the apricots are just beginning to char around the edges. Remove from the oven.
Spoon the apricots, three halves per person, into dessert bowls and top each serving with a dollop of honey mascarpone. Serve while still warm.