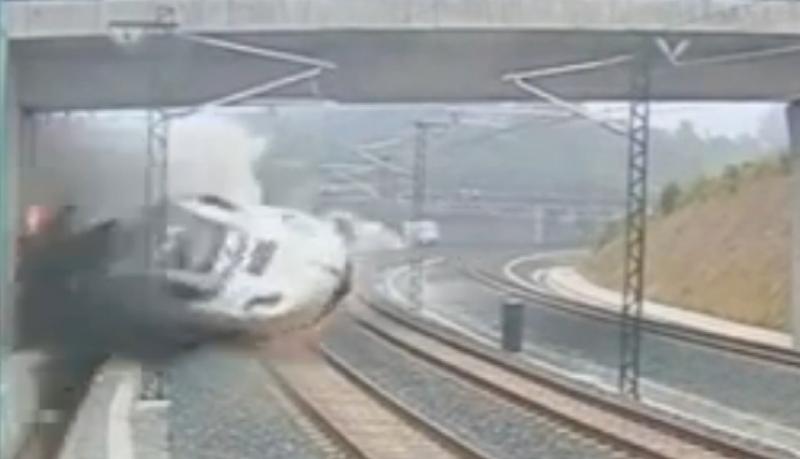 Excessive speed around a tight curve is suspected as a cause of the deadliest high-speed train crash to happen in Europe in recent memory. The BBC reports 78 people died and more than 140 were injured, when a Renfe train derailed last night near Santiago de Compostela.
The train was carrying 218 passengers. 
A video of the crash (embedded below) from what appears to be a static camera for monitoring track activity shows the train's locomotive rounding a bend while the cars behind it rapidly derail and strike a retaining wall along the track. 
Time magazine's Lisa Abend spoke to NPR's Morning Edition from Spain, reporting that the train appears to have been going too fast. "It seems increasingly clear that the cause of the accident was excess speed. One of the engineers on board reported that the train was going 190 km-per-hour, that would be about 118 miles-per-hour, around a curve in which the speed was supposed to be 80 Km-per-hour," Abend said. 
Time has posted a chilling photo slideshow of the carnage showing images of covered bodies of victims strewn around toppled train cars and burnt metal, others show worried onlookers waiting for news. It is not for the feint of heart. 
Deadly high-speed rail crashes are relatively rare. Few similar incidents come to mind. In Wenzhou China, 43 people were killed when two trains collided. Abend said Wednesday night's derailment is the only crash in Spain since it launched its high-speed rail network in 1992. Bloomberg says Spain has the third largest high-speed rail network in the world. 
Here's the surveillance video of the moment of the derailment. Do not watch if you are disturbed by violent images.