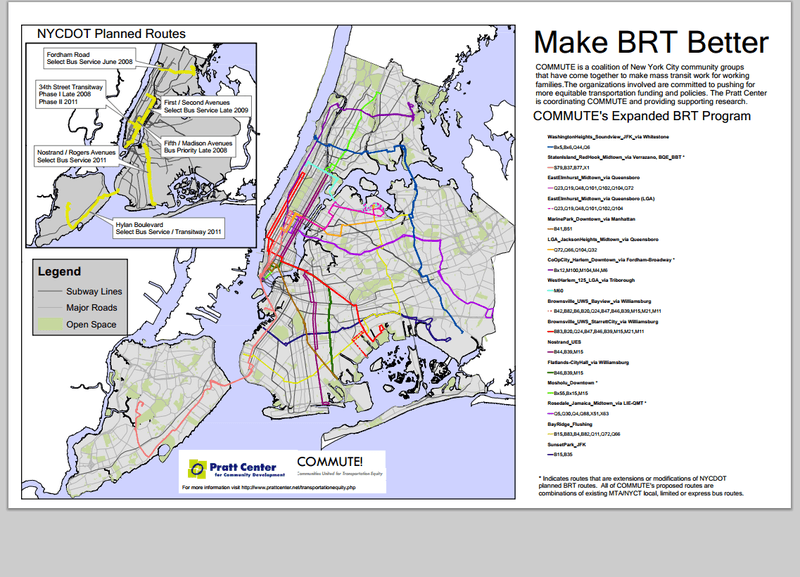 New York City's transit authority has introduced five Select Bus Service routes in recent years and proposed more than 20 others, but that's not enough for some supporters of faster buses who want to use legislation to speed the city's adoption of Bus Rapid Transit.
Council Member Brad Lander introduced a bill on Wednesday that would require the MTA and the NYC Department of Transportation to create plan for a citywide system of Bus Rapid Transit, like the existing Select Bus Service express buses. 
"Many people in this city are isolated because they live in a neighborhood without a subway station," said Lander, in a statement. "This bill is the next step in the campaign to improve our transit network for all New Yorkers in an affordable and flexible way." 
Bus Rapid Transit routes have dedicated lanes and passengers pay fares at the bus stop before the bus arrives, speeding boarding. The result is a faster ride. The idea has gained popularity as a cheaper alternative to building new subway lines and in New York as a way to speed up commutes from outlying areas where more working class people often have long commutes that are getting longer. 
The Pratt Center for Community Development proposed a BRT network as a solution to rising transportation inequity as far back as 2007. Wednesday, in an email, they touted that work and said, "The success of additional SBS routes in Manhattan, Staten Island, and the Bronx have shown that even the modest investments needed to create SBS delivered real reductions in travel times, along with improved reliability and growth in ridership."
A recent plan to add another SBS line in Harlem was scuttled because community members did not support the plan.
If adopted, the bill would give the MTA and DOT two years to craft a plan and to factor in community input. That means the bulk of the work would come under the administration of the next mayor of New York. At a recent mayoral forum, almost all candidates running for New York's top office sung the praises of Select Buses and said they'd add more. 
Still, Lander wants to lock in that sentiment with legislation. "We need to make sure that the next administration supports the roll out of a real, citywide Bus Rapid Transit system that gets New Yorkers without a subway stop in their neighborhood to their destination faster," Lander told WNYC. 
The MTA and the DOT have collaborated to produce a plan for Bus Rapid Transit expansion that mentions more than 20 lines that could possibly benefit from some kind of express service like SBS.
MTA spokesperson Adam Lisberg said, "We don't want to take a position on legislation we haven't studied, but generally speaking, the MTA has worked well with NYC DOT to identify corridors where SBS can be an improvement for bus riders, and we're proceeding with implementing them." 
The MTA runs the buses, but because Select Bus Service requires dedicated lanes, the MTA must coordinate with the Department of Transportation which manages city street design in order to build the routes. 
DOT spokesperson, Seth Solomonow, said DOT does not comment on bills before a hearing.