Campaign Playbook for Weiner's Opponents: Stay Out of the Way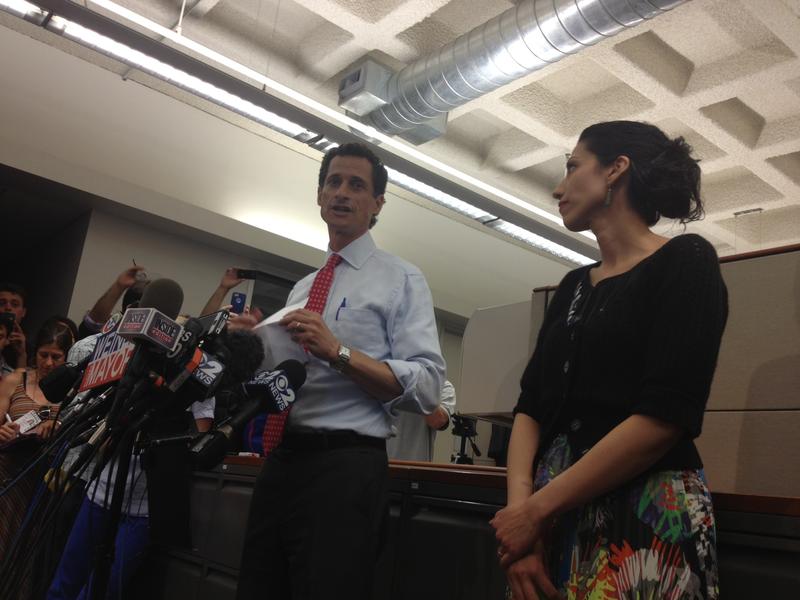 Anthony Weiner was back on the campaign trail on Wednesday, and so were his opponents. For them, capitalizing on Weiner's troubles requires a delicate strategy.
At the start of the week, Anthony Weiner was among the frontrunners in the Democratic field for mayor, with supporters like Louise in Manhattan. But, as she told The Brian Lehrer Show on Wednesday, she's done with him now.
"He lied, and liars don't just lie about one thing, and I don't want a politician or anybody who is a proven liar," she said.
So, that means she's looking for another candidate.
Bill Thompson was out early on Wednesday, shaking hands and looking for voters like Louise. He didn't bring up Weiner at all — until a reporter asked him about it.
That prompted him to tick off a few points. He restated the facts, that Weiner's timeline of events had shifted. Then, Thompson noted others were responding, pointing to the New York Times editorial calling for Weiner to drop out. Then, his conclusion.
"To be blunt about it," Thompson said, "I think it's becoming apparent he has not been honest with the people of this city."
It was textbook campaign strategy for when your opponent runs into trouble.
"If you're a candidate, you don't have to do anything about it," said consultant Bradley Tusk, who ran Bloomberg's 2009 campaign and is informally advising Christine Quinn this year. "There's no reason to run negative ads on Weiner. There's no reason to waste your breath attacking Weiner. There's no shortage of radio, TV and print reporters who are doing it already."
Still, it's not the same for everyone.
"I think it depends on which candidate we're talking about," said Jeanne Zaino, political scientist at Iona University. There is different advice for Bill de Blasio or Sal Albanese, two Democrats who quickly moved on Tuesday to call for Weiner to drop his campaign.
"I think we have to be cognizant that they're much further down in the polls and that they may not have a lot to lose to get out there, and if they can at all, move this guy out of the race," said Zaino, who is teaching campaign communications strategy at NYU.
Still, for any candidate, Zaino said it's best to leave the real zingers to campaign supporters and surrogates, rather than coming out of the candidate's mouths.
"You've got to be very cautious that voters don't look like you're just trying to capitalize on somebody else's difficulties."
But when Christine Quinn was asked about Weiner on Wednesday, she couldn't resist.
"We see in former Congressmember Weiner someone who has demonstrated repeated reckless behavior, clearly has challenges and difficulties with the truth, has not demonstrated the type of responsibility or seriousness we need in a mayor, and has brought a circus-like atmosphere to the mayor's race," Quinn said.
The other thing is, of course, is that all these Weiner headlines might not actually change the course of the campaign. Consultant Bradley Tusk said that even before all this, his polling showed Bill Thompson and Christine Quinn were the likely candidates to make it to the runoff.
Like Anthony Weiner said at his press conference, maybe today is not that different than the day before after all.