SchoolBook
Education Groups Detail Mayoral Roadmap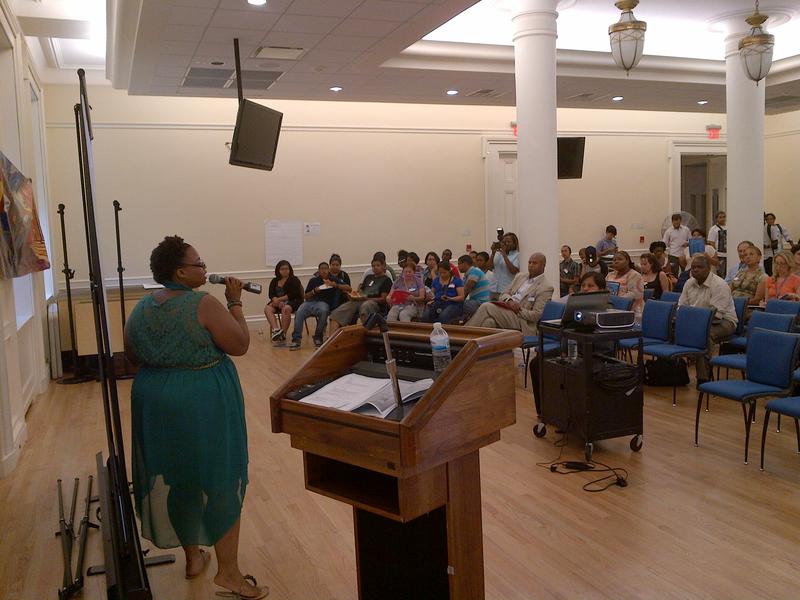 A coalition of community groups laid out what they call their "education roadmap" for the next mayor. Their priorities include greater funding for public schools, more arts and physical education education and a smaller role for standardized tests.
The group, A+ NYC, includes about 50 different nonprofit advocacy, youth service and community based organizations. Members drove a blue school bus around the city, starting last fall, to meet with communities and determine their priorities for the 2013 elections.

The resulting 10 page "Whole Child, Whole School, Whole City" roadmap, a glossy pamphlet looking toward the next mayor's first 100 days, was distributed Wednesday to dozens of invited parents, students and nonprofit groups who attended afternoon workshops at Brooklyn Borough Hall. Natasha Capers, of the Coalition for Educational Justice, told attendees that schools have 5100 police personnel, a number that's about 70 percent larger than the workforce of guidance counselors. As she rattled off other statistics about the state of school funding, child poverty and obesity, she told the audience that the goal is for a more holistic education system that can tackle these problems.

"Today we expect for the child to navigate through the public education system with very little help," she said. "And so we want to see that differently. We want to see that schools are able to have everything they need to make sure that children are completely successful."

Attendees were given information on how to lobby their legislators, with a sample phone script encouraging them to talk about why more arts are needed in their own schools, for example. They were also given the Twitter handles for the Democratic candidates for mayor.

After almost 12 years of Mayor Michael Bloomberg's school reforms, various groups are pushing to either continue his policies or to move in a very different direction.The A+ NYC coalition cannot make any political endorsements, but its positions are in sync with many of the Democrats running for mayor who have called for a more inclusive approach to communities and schools. Some of the coalition's members also have their own political action committees. The Coalition for Educational Justice, for example, has a PAC that endorsed Public Advocate Bill de Blasio.

Some of the younger attendees had only just begun paying attention to the mayoral race. Teenage members of the Brooklyn group Make the Road by Walking were still just learning about the campaign season. Sixteen year-old Sylvia Belmonte, who is entering her junior year at the academically struggling Cypress Hills Collegiate Preparatory School, said she wants the next mayor to know that more funding can potentially improve all schools. "Not only to benefit good schools, because there are good schools, but there also schools that could really use the help," she said.

Errol Hinds, a parent of two teenagers from Queens Village, said he was concerned about stop and frisk, racial profiling and the healthcare. "Many of the children go to school, they don't have lunches or breakfast even before they start the school and they have mental issues," he said, referring to attention deficit disorder and problems with foster care. But Hinds said he has yet to pick a candidate for mayor. "There are so many issues that I need to see coming to the fore, and they are not and I'm just waiting to see," he said.