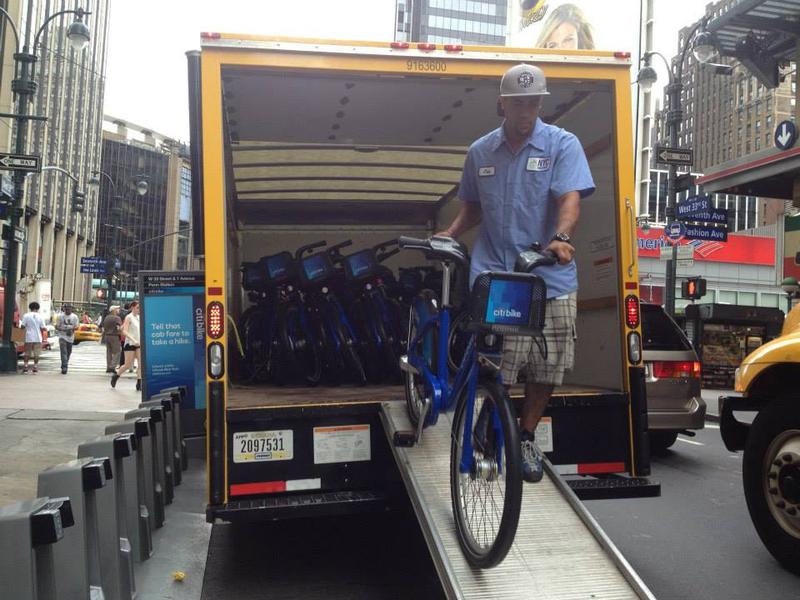 Following our story on the problem of popularity facing New York's bike sharing program, we get a photo essay on the Citi Bike Facebook page that shows how hard the company is working to keep up with peak demand... and how it's still not enough. 
"As soon as our rebalancers manage to fill up the 33rd and 7th Station, people exiting Penn Station come to check them out and take them on their way," Citi Bike writes of a the morning rush hour. "We are currently using two larger trucks to help us keep high traffic stations like those around Penn Station better stocked." 
The yellow large box trucks appear to be former Penske moving trucks, filled with blue Citi Bikes from end to end. 
As we reported Monday, an analysis of the usage patterns of several Citi Bike racks around Penn Station shows that the docks are empty or near empty well before the end of the morning rush hour. Commenters on our article said this phenomenon is happening elsewhere, too. 
"I arrive at [the Port Authority Bus Terminal] at 7:15 am to 7:30 am every day and the four bike stations nearby are usually empty by then. I often have to walk nearly a mile to 6th Ave 41st St or 43rd St to get a bike," Terrance from Bergen County wrote. 
"I too have an annual pass but no longer use Citibike now that the program has caught on and become too popular for its own good. It is near impossible to get a bike near Columbus Circle after 8:15 am, and even if you do there is no point since there is only one dock serving the enormous office area around 6th Ave and 56th St where I work and I have never found an empty dock after 8:30 am," Dave from Inwood wrote.
Our bike share map confirms some of this, showing the average daily patterns of usage at each station.
That's what we used to focus on Penn Station's rush hour shortages, but what our analysis can't capture is how often the docks get refilled each morning. Tuesday's Facebook photo set implies Penn Station docks are refilled two times each morning at least on some days.
It is unclear exactly how many times bikes get added and on what schedule at Penn Station or elsewhere because that data isn't released. But the Facebook photo essay makes clear, no matter how many new bikes the company adds into the empty docks, eager Penn Station commuters are snatching them up almost instantly.
"At high traffic stations like Penn Station we fill the stations close to capacity, knowing that they will empty out again quickly," one photo caption reads. Followed by the ominous closing note, "The 33rd and 7th Street station is restocked for now."