Jet Removed From LGA Runway After Landing Gear Mishap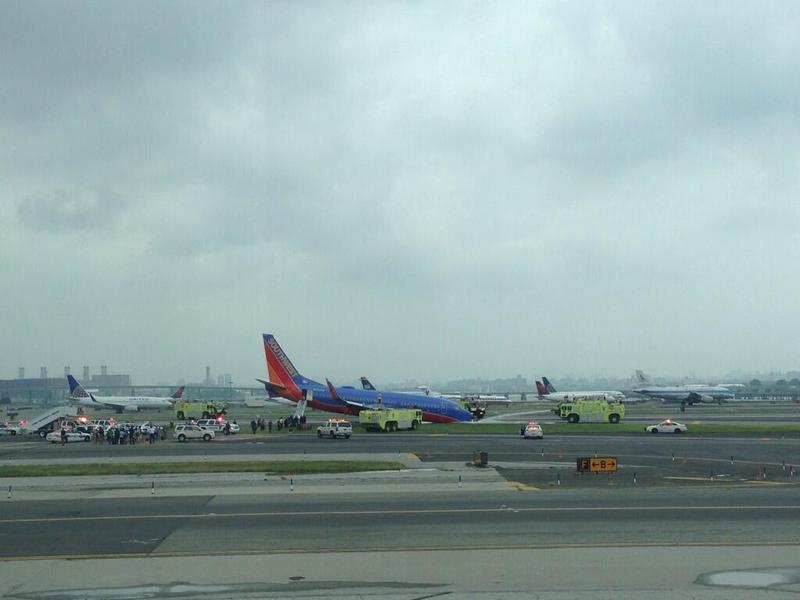 LaGuardia Airport was fully reopened Tuesday after the collapse of a plane's landing gear sent it careening down the tarmac — temporarily closing the facility and sending at least six to the hospital with minor injuries, officials said.
The nose gear of Southwest Airlines flight 345 from Nashville, Tenn., collapsed once the plan landed on Monday, forcing the closure of the airport for more than an hour, officials said.
Lisa Wood, 56, flew into LaGuardia from Milan, Italy, on Monday afternoon and was unable to get onto a connecting flight to Cleveland, Ohio. She spent the night at the airport, sleeping under an escalator with several other families, she said.
"It could get worse," Wood said. "Ask me in 12 hours and we'll see. I'm hopeful we'll get home today."
Nearby, sitting up after a fitful night lying on a heater in the downstairs eatery, Vanessa Martinez was less sanguine. She's hoping to get back to Fort Lauderdale, Fla, in time for a scheduled surgery on Wednesday.
"I really didn't sleep," she said. "I destroyed my body."
Martinez said her flight was canceled with no other options but to pay triple the original price for a later flight to Florida.
The plane is being moved to a nearby hangar.
The FAA is investigating, as is the National Transportation Safety Board.
With the Associated Press