Is Booker Really More Popular Outside of Newark Than Within?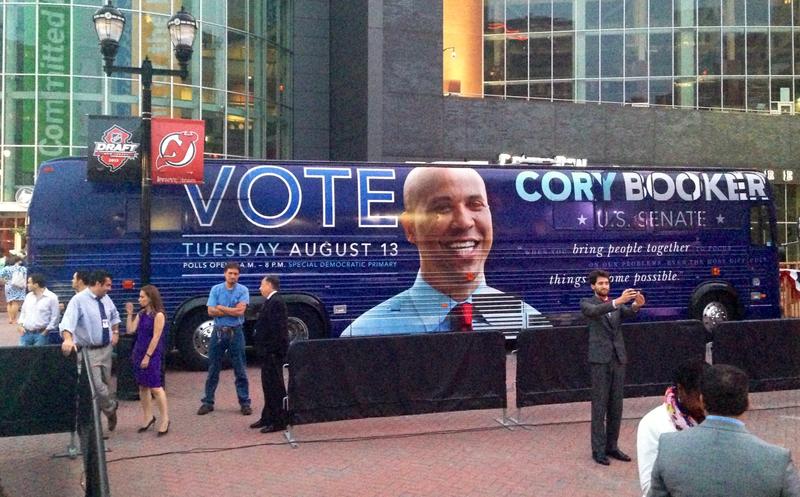 The last time Newark sent someone to the U.S. Senate, the Emancipation Proclamation to end slavery had just been issued — 1863. And that could give Newark Mayor Cory Booker a boost in popularity as he runs for the U.S. Senate, says Clement Price. He is a History professor at Rutgers University and a longtime observer of Newark's politics.
He says Newark residents have a lot of pride in their city, and that Booker has long been viewed with suspicion from residents because he isn't from Newark. For many, that cancels out some of Booker's real accomplishments in the city, Price said.   
"That's just the way democracy works in Newark," he said. "You can be from Newark and be enormously popular despite not contributing very much to the city."
Favorability in Newark
A recent poll found the mayor has a 70 percent favorability rating among likely voters in Newark. But, as some of Booker's critics point out, the most marginalized residents in the city don't always turn out to vote.
In downtown, for example, at the city's central intersection, there are people who have not heard of Cory Booker.
"Yeah, I don't know him yet," said resident Michael Anthony.
Students with the Newark Student's Union say there is one easy way to gauge how much attention you get from the mayor: look at his Twitter account. 
"Many of us have tried to reach Cory Booker. He's an active tweeter but he doesn't reply to our tweets," said student member Thais Marques. "He's never re-tweeted us."
It stings a little, she says, considering the mayor with 1.3 million Twitter followers responds to tweets about dogs left out in the cold and left out in the heat.
The student group advocates for better education funding and thinks the mayor's accomplishments have been overstated.
Booker brought in $100 million for Newark schools from Facebook Founder Mark Zuckerberg.
But when $50 million was cut from Newark schools under Governor Chris Christie's education budget, the student group says Booker went silent.
More than 1,000 students protested the cuts at a New Jersey State Assembly budget hearing, and NSU president Jaysen Bazile says Booker missed an opportunity.
"If I was a politician, that would be an awesome moment for me to be like, 'Newark students, they're standing up. Why aren't state legislators standing up for Newark Students?,'" he said. "But no he didn't do that."
Booker did not respond to our request for a comment.
Throughout Booker's career he has been known as an eloquent speaker. He is sought after for speaking engagements around the country that have earned him close to $1 million since 2008.
But in his quest to fill the late Frank Lautenberg's senate seat, there has been a noticeable shift in how he speaks publically.
He has been talking a lot more about his policies — using more jargon and numbers, and looking down to read from a prepared speech at recent campaign events.
A Mixed Track Record
In his seven years as mayor, Booker's track record has been mixed:
The number of shooting victims has gone down — from 502 in 2006 to 427 in 2012, according to data from the Newark Police Department.
Violent crime overall is up — from 2,981 violent incidents in 2006 to 3,360 in 2012, according to New Jersey State Police Uniform Crime Reports.
Unemployment has risen but at a slower rate than the state average.
He kept Prudential in Newark and brought in a Marriott — the first hotel in the city in 40 years.
He has a massive, celebrity-like following but perhaps an even more vocal group of critics.
Still, leaders from several long-time organizations in Newark, including the 43-year-old Ironbound Community Corporation, say the mayor has supported their efforts more than previous administrations.
Joseph DellaFave heads the Ironbound group. He says one of its longest-running efforts has been the fight to bring a riverfront park to Newark.
"There was no real interest from the previous administration," DellaFave said. "Previous administrations paid no attention to it, quite frankly."
They had been trying for 20 years. But two months after Booker became the mayor, DellaFave says he was meeting with city officials to make the riverfront park a reality.
"It's an incredible contribution to the quality of life in this neighborhood," he said.
It increases open space in Newark by 50 percent. And he says it wouldn't have been possible without Cory Booker's support.
Booker set the bar high for himself when he first ran for mayor. He said he would transform the city. Make it a model for the rest of the country.
Newark student Christian Moraes, 16, says he has no problem giving Booker credit for what he has accomplished in the city. But he says Booker's national celebrity is a source of tension.
"It's not him I'm more frustrated with, it's mostly how people see him," he said. "People see him as like a savior of Newark."