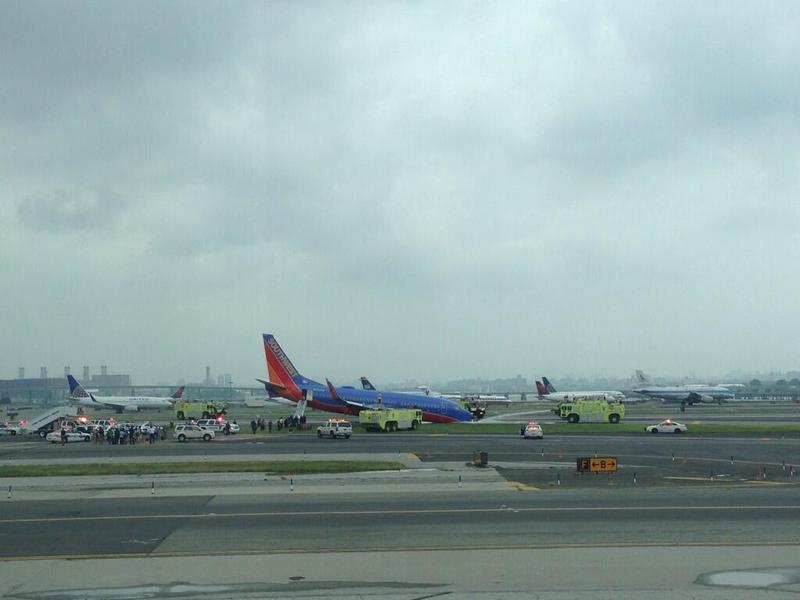 The Port Authority of New York and New Jersey says it appears the front wheel popped off after a Southwest Airlines jet landed at LaGuardia Airport Monday shortly before 6:00 p.m. Officials say the plane skidded on its nose down the 7,000-foot runway before coming to a halt on a grassy area.
Ten passengers were treated at the scene, with six being taken to a hospital with minor injuries, said Thomas Bosco, Acting Director of Aviation for the Port Authority of New York and New Jersey, which oversees the area airports. The six crew members were taken to another hospital for observation.

The airport was temporarily closed to plane traffic but one of two runways was operating by 8:00 p.m., according to the Federal Aviation Administration, but one runway is expected to open shortly and passengers have been told planes are beginning to taxi. 
Duncan McFadyn, a reporter from NPR affiliate WFAE in Charlotte, told WNYC that he saw the plane's nose dip forward and bright sparks illuminate the body of the plane. McFadyn says from his vantage point from a LaGuardia terminal, there was no smoke or fire following the sparks, and he saw passengers evacuate the plane 10 to 15 minutes later via its chutes.
"It was a little overwhelming to all of us here," he said. "I mean a lot of us are frequent travelers and the sparks were very bright and they extended pretty much the full length of the plane. Just very bright, like, almost fireworks or something."
Several pictures of the plane on Twitter, including this Vine of emergency vehicles responding, showed the nose of the plane against the ground with the tail pointed high.
The FAA said Southwest Airlines flight 345 from Nashville landed at 5:45 p.m. Monday. After the front landing gear malfunctioned it safely came to a stop on the tarmac with the front of the plane pointing down to the ground. The plane, which was carrying around 150 passengers and crew, was surrounded with emergency vehicles.
The Port Authority said there was no fire or fuel leak and foam was sprayed around the plane as a precaution.
Dallas-based Southwest Airlines spokespeople didn't immediately respond to phone and email inquiries but posted a statement acknowledging an incident on the company's website and saying: "Eyewitness reports indicate the aircraft's nosegear collapsed upon landing."

The National Transportation Safety Board said investigators are on scene.
The incident grounded planes at LaGuardia until about 8 p.m. One of two runways remained closed but the airport was expected to be fully operational by Tuesday morning, the Port Authority said.
Investigators must look at the debris on the runway before it can be cleared. Bosco said there may also be damage to the runway.
"The description I heard was 'gouges in the pavement,'" he said.
With the Associated Press.
To hear Duncan McFadyn's eyewitness account, click the audio link.