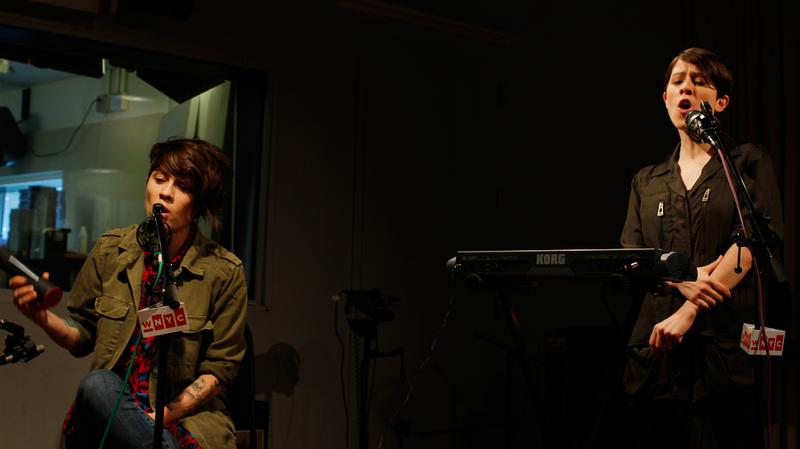 This year has been good to Tegan and Sara Quin, the identical twin sisters who lead the band Tegan and Sara. Their seventh studio album, Heartthrob, premiered at No. 3 on the Billboard 200 chart, and the duo recently made the short list for Canada's prestigious Polaris Music Prize. And it's easy to hear why: Tegan and Sara's fizzy brand of pop draws you in immediately with pulsing synths, a propulsive beat, and uncannily catchy melodies.
For more photos, visit Soundcheck's Tumblr page. 
Set List:
"I Was A Fool"
"Closer"
"I'm Not Your Hero"
Interview Highlights
Tegan Quin, on the benefits of collaborating and writing for other artists:
I encourage young artists out there to collaborate with each other all the time. Bands constantly come to us for advice — young artists, aspiring artists, singers, writers, etc. — and I always say now, the best thing you can do is go and collaborate with someone else, because you are broadening your horizon right away. Instantly you are learning from someone else, and I think that that's the best way to become a good writer.
Sara Quin, on the duo collaborating with each other heavily for the first time:
There's something creatively frustrating for me that in the compromise we've ended up having so much more success. You of course stubbornly think that it'll be your song or it'll be your vision that ultimately pushes you forward. And I think that over the years I've realized that that was fairly, that's not true.

Tegan and I, probably our most successful moments have come when we were probably both stubbornly moving towards the middle. And that sort of compromise has created some of our strongest work, probably.
 Tegan, on her and Sara's decision to go in a more mainstream direction with Heartthrob:
We'd always just said, "No, there's no room for us on radio. We're different. We're girls. We write own songs. Nobody wants that. No one wants that." All of a sudden, we didn't care anymore. We shrugged off all that insecurity.

And I was like, "I want to change the way that mainstream radio looks. I want to change the way that mainstream music looks. I want to get things like SNL. I want to get on The Ellen [Degeneres] Show. I want to tour and play really big venues. And I don't want to compromise. I want to just go for it and still have integrity in our music." And Sara was on board for that too.