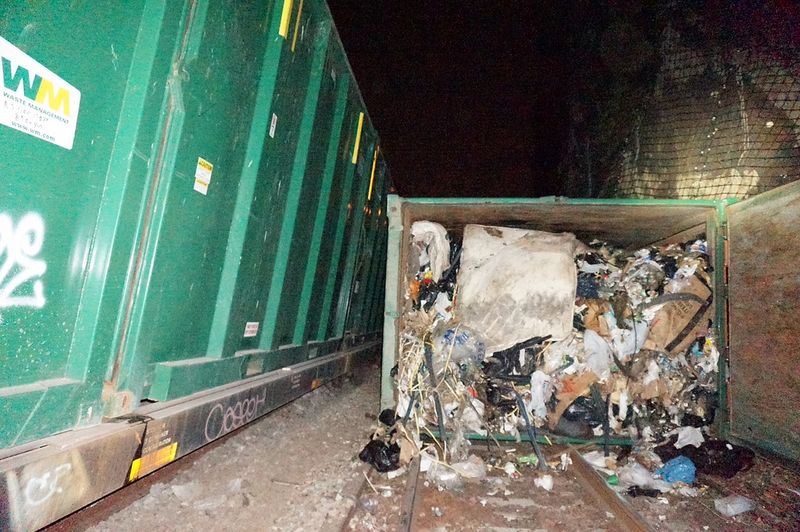 UPDATE: Morning rush hour service is restored on Metro-North's Hudson Line following a 10-car derailment Thursday night in a particularly narrow stretch of track in the Bronx. Trains are running on a single track with scattered delays.
ORIGINAL, July 19: Hot garbage and toppled train cars in the Bronx will continue to block Metro-North service along the Hudson Line until Saturday or later, following a freight derailment, according to an MTA spokesperson.
Two cranes are on scene painstakingly re-railing each of the 10 cars one-by-one. In Thursday night's accident, several cars of the CSX trash freight train fell over, scattering the waste they were hauling, turning the work-site into a garbage clean up as well. (See video of the overnight repair work and early morning commute below.) 
As of 11:00 a.m. Friday, one car had been confirmed to be back back on track, according to an MTA spokesperson. 
The site in the Spuyten Duyvil section of the Bronx is particularly unfortunate for the re-railing efforts. The train derailed close to where the right of way goes from four tracks to two. It's a curving ravine with steep rock walls on either side, inhibiting equipment from operating more efficiently. (Post continues below)
"It's really narrow and it's only two tracks so just getting work trains in there can be tricky," Bob Previdi who worked at the MTA for 14 years during 80s and 90s as a planner and spokesperson who is familiar with the tracks and location. 
Roughly 25,000 people ride Metro-North's Hudson Line daily. The MTA said that figure was sharply reduced Friday morning as commuters found alternate routes into Manhattan from points north. The MTA is offering shuttle service and free transfers at various stations (see list below). Customers are urged to make alternate travel plans. 
Here's some video of the derailment site from Thursday night and scenes of the early morning commute Friday morning. For a helicopter's eye view, try this AP compilation. 
From the MTA on how to get around without the full Hudson Line Friday: 
Southbound on the Hudson Line, reduced train service is operating between Poughkeepsie and Yonkers Stations only, and connecting at Yonkers with shuttle bus service to Van Cortlandt Park-242 Street in the Bronx and southbound No. 1 Subway service.

For northbound service between Yonkers and Poughkeepsie stations only, customers should take the Subway Shuttle to Times Square to the No. 1 Subway Service to Van Cortlandt Park-242 Street. Bus service will operate to Yonkers Station and connect with reduced train service to Poughkeepsie.  

 Customers traveling between Riverdale and Yankees-E.153rd Street stations are urged to use NYCT subway and/or bus service.  Ludlow customers should use Yonkers Station. Hudson Rail Link service will operate to the No. 1 Subway.  Free subway transfers will be provided.