SchoolBook
Union Sues Over "Premature" Charter School Placements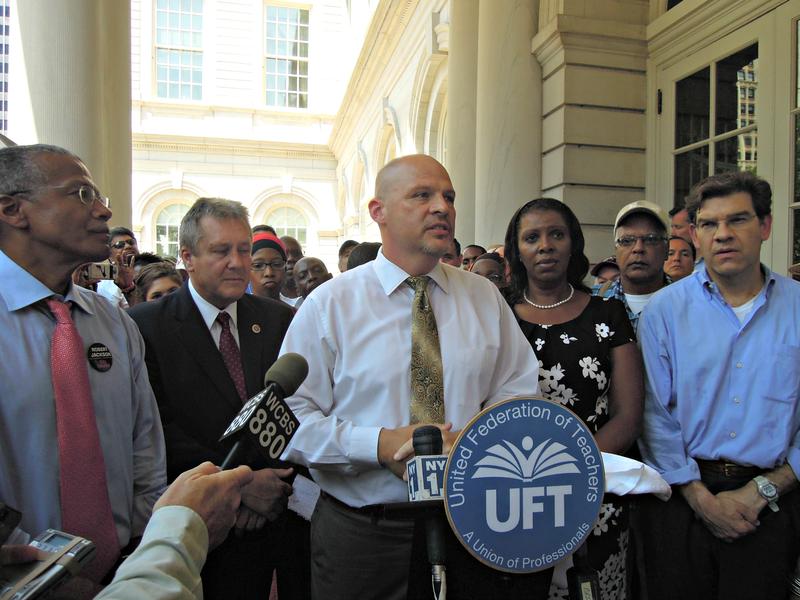 The teachers' union is pushing back against Mayor Michael Bloomberg's effort to influence changes in the school system years after he leaves office, specifically in the way that space in school buildings is allocated to charter schools. The latest dispute comes in the form of a lawsuit filed in State Supreme Court.
Michael Mulgrew, president of the United Federation of Teachers, said the city prematurely determined this spring which school buildings could host charter schools starting in 2014-2015 or later, along with other school changes such as grade expansions or truncations. The union claims in a lawsuit filed Thursday that circumstances within the building "could differ significantly by the time the changes are scheduled to go into effect."
"The mayor thinks he's a fortune teller," said Mulgrew. "He can tell how this is going to impact a school two years from now. That is absurd."
He spoke to reporters outside City Hall and several City Council members, and even candidates for City Council, joined him, seizing the opportunity despite the midday heat to criticize the mayor and his push for charter schools.
The Education Department issued a statement calling the lawsuit a "tired gimmick" and an "effort to turn the clock back on the successful reforms" under Mayor Bloomberg.
The lawsuit, which can be read in full here, asserts that the city could not possibly issue accurate Educational Impact Statements so far in advance of planned changes to school buildings, a potential violation of state education law 2590-h(2-a)(c).
The impact statements take into account details such as current and projected student enrollment, condition of the school building and information on schools' academic performance.
Marc Sternberg, the senior deputy chancellor for strategy and planning, said the Education Department has previously submitted planned changes to school buildings, such as co-locations or shrinking grades, more than a year in advance.
"This is business as usual," he said, and added that the city's education officials run "a very complex system" that requires advance planning. "We should be criticized for not having long-term plans," he said.
The lawsuit questions plans for 16 schools that recently received approval from the city's Panel for Educational Policy. All but three of the schools are charter schools.