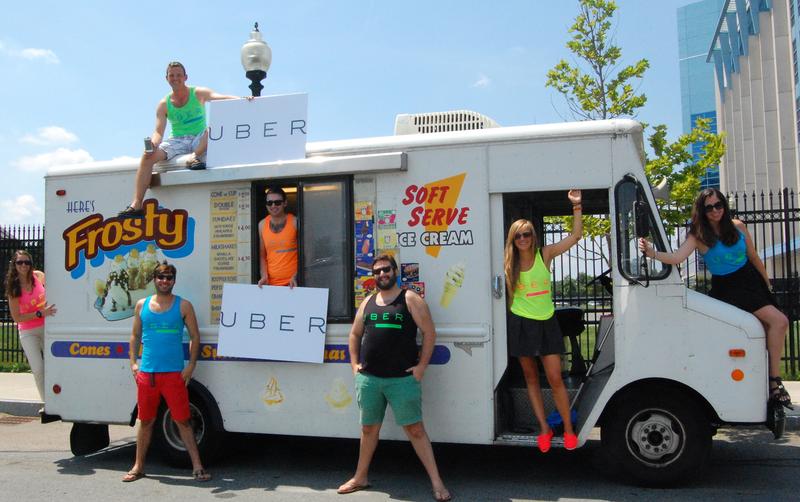 You can order an ice cream like a taxi Friday, and the truck will show up with it. 
The lastest publicity stunt from the e-hail company Uber enlists a fleet of ice cream trucks to be dispatched through the app, normally used for hailing taxis.
But hey, it involves ice cream in July, so we're biting.
"We're going to have one official driver [in each truck] who is an employee of Mr. Softee or Van Leeuwen doing the driving and the scooping," said Nicole Benincasa, NYC Community Manager for Uber referring to the two companies participating in New York. There will also be an Uber staffer in each truck accepting soft serv hails through the app and directing the navigation to the next location over-heated, gadget-saturated location.
Uber-responsive ice cream trucks will be roving around 33 cities in 11 countries, a sign of the sweeping ambitions the company has for expansion.
Ice cream prices vary by city, but in NYC it will be $30 for a bundle of six pieces of ice cream and some Uber swag.
There will be 26 trucks in New York. "Last year we had four or five. So this is a significant increase. And we're hoping it will help in fulfilling demand," said Benincasa.
One innovation Uber is known for is a demand pricing model for livery cabs that can result in charges as much as four or five times the normal fare during periods of peak demand, like on New Years Eve. This model motivates more drivers to stay on the roads, but also shocks some customers who don't realize what they are paying until after the charge goes through.
Uber wants to avoid Mr. Softee sticker shock. "No demand pricing tomorrow," Benincasa said.
Temperatures are expected to be in the 90s again for many cities in the U.S. Friday, so e-hailing a few scoops of vanilla might not be all that much faster than snagging a yellow taxi on a rainy rush hour.