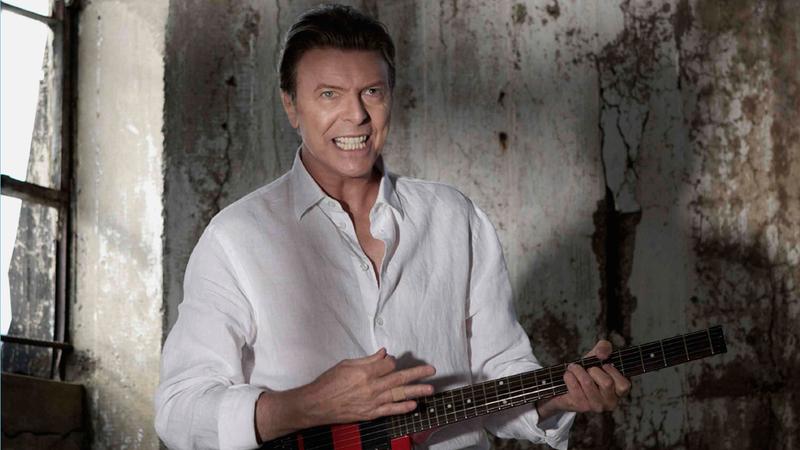 Throughout his career, David Bowie has been known for groundbreaking and inventive music videos. So yesterday, when he released a new video for "Valentine's Day" -- a great track from his comeback record The Next Day -- some people were surprised that it consisted solely of Bowie and a prop guitar in a disused industrial space.
Entertainment Weekly wrote, "After the epic, arty awesomeness of Bowie's last couple of videos, we were expecting a little more more in his new clip for 'Valentine's Day'… Bowie's latest, however, is much simpler, featuring little more than the singer, his guitar, and those famously mismatched eyes peering into your soul."
Well, maybe. I thought that too when I first watched it. That is, until I noticed a weird shadow on the wall that didn't seem to match what Bowie was actually doing. So I watched again. The shadow on the wall is clearly holding a gun, not a guitar.
The song is about a school shooting, and at several points in the Indrani and Markus Klinko-directed video, Bowie holds the guitar as if it were a weapon. It's all very subtle, but it's essentially a great bit of misdirection: Those eyes do draw your attention, but the real message is hidden in the corners and shadows and quick cuts. Elsewhere, a brief glimpse of what looks like a wave form is actually a speeding bullet.
Then there's the still from the video issued by Sony:
This evocative photo is strikingly similar to theinfamous image of Charlton Heston from 2000 telling the NRA convention that the Democrats could have his gun when they pry it out of his "cold, dead hands."