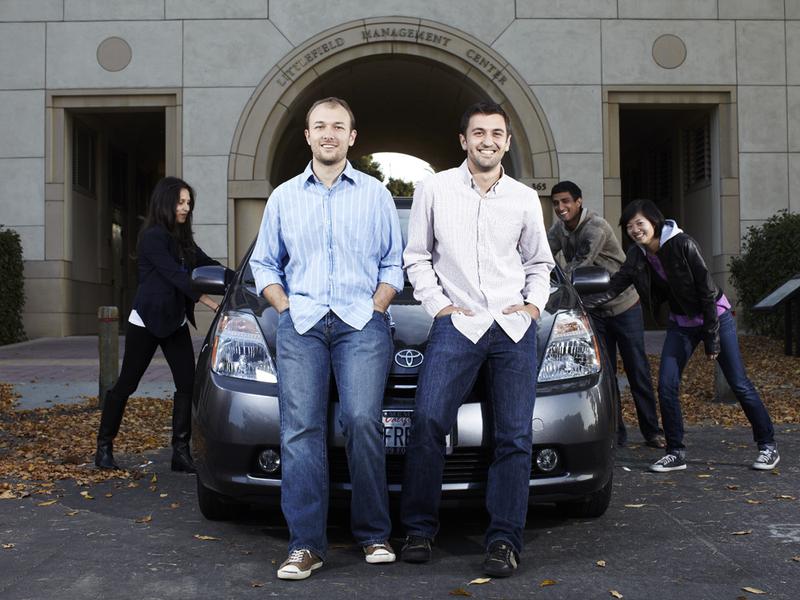 The rental car company Enterprise continues to expand into car and ride sharing through acquisition. This time, the industry giant picked up five year-old Zimride that helps people carpool on longer distance rides.
Zimride has about 350,000 users, almost all on college and corporate campuses. The company initially tried to reinvigorate carpooling for the modern age by requiring users to have a Facebook account so that passengers and drivers could vet each other first. But the service failed to catch on beyond campus communities.
Over the years, Zimride expanded into local ride sharing startup called Lyft, which became the focus and new name for the combined company about a year ago. "We now have 80 team members at Lyft and 75 of them were already [working] on Lyft," founder Peter Zimmer said in an email.
Lyft will continue to operate as usual, Zimride will be run by Enterprise under the Zimride brand. 
The distinction between the two companies can be summed up like this: Lyft is trying to be a substitute for a taxi and competing with UberX and Sidecar. Zimride is a substitute for an intercity bus ticket or your college ride board or company carpool. It's planned rides, not spur of the moment.
So it makes sense that Zimmer would want to sell off the old business to let him focus on the new one. Why would enterprise want to facilitate carpooling? 
For one, Zimride reaches a younger audience who will grow into car renting and car sharing consumers of Enterprise's core business. But also, Zimride can expand to offer car share serving the student and corporate client. 
"This acquisition is the perfect complement to our existing car-sharing, vanpooling and car rental services," said Ryan Johnson, assistant vice president overseeing Enterprise CarShare and Rideshare operations in a statement. "We will be able to even further enhance our offerings and provide a total transportation solution to our partners and customers worldwide."
Zimmer added, "With Enterprise, we are able to combine the information and online platform of Zimride with the physical transportation resources of Enterprises' cars and vanpool fleets."
Enterprise has previously purchased Mint Cars-On-Demand in New York City last year and Chicago's IGO CarSharing earlier this year. Competitor Avis purchased ZipCar in January. Both Hertz and Enterprise have launched their own car sharing brands.