Last Chance Foods: Getting to Know Gooseberries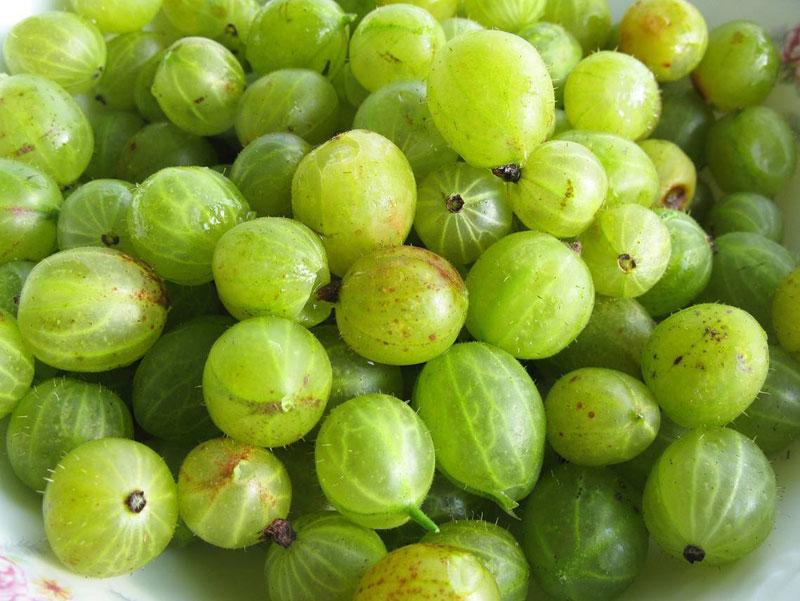 In the 1920s, New Yorkers grew 2,700 acres of gooseberries. These days, they are a fairly rare sight, even at farmers markets. In part, that's because growing gooseberries used to be illegal in New York State. The law was enacted in the early 1900s to prevent the spread of white pine blister rust. The federal version of the law was rescinded in 1966, and New York eventually followed suit in 2003.
Dr. Brent Ridge and Josh Kilmer-Purcell of the Cooking Channel show "The Fabulous Beekman Boys" are on a mission to help gooseberries make a comeback. "I think gradually it's catching on," said Ridge. "We're going to make gooseberry cronuts or something. It needs a trend, and we're going to start it."
Ridge and Kilmer-Purcell grow gooseberries on their farm, Beekman 1802, in Sharon Springs, N.Y. "They're like a tart green grape crossed with a plum," said Ridge. "When they're ripe off the vine, they're edible raw but, most times, they're cooked."
Gooseberries are just becoming ripe in upstate New York right now. The plants yield fruit for about two weeks, and the berries soften as they ripen on the bush.
While gooseberries may seem like a relatively obscure fruit these days, Kilmer-Purcell explained how that wasn't always the case. "Gooseberries became very, very popular in the 19th century, so much so they were almost a food fad," he said. "And they spawned gooseberry clubs in England, and there were actually a couple in America."
(Photo: Brent Ridge and Josh Kilmer-Purcell/Tate Tullier)
Gardeners would compete to see who could grow the largest gooseberry. The fruit, normally the size of a grape or smaller, could grow to the size of a small plum. Judges would use individual grains of sand portioned out with a feature to get exact measurements of the entries.
"In the middle of this craze, England began trading their gooseberries with America and America began trading them back," said Kilmer-Purcell. "And then... all heck broke loose. We got the blister rust; they got a mildew from our gooseberries." That signalled the end of the fruit's popularity but, now, gooseberries are back.
Ridge said that they're are often used in baked goods like gooseberry pies because sugar offsets the fruit's tartness. Kilmer-Purcell put a modern spin on a classic English dessert with his recipe for goat cheese gooseberry fool. (The recipe is below.)
"A fool is actually one of the oldest desserts on record," he said, adding that it dates back to the Elizabethan era. "It's basically a whipped cream that is made with stewed fruit... That sweetness of the fruit with the tangy sourness of the goat cheese and whipped cream is really delicious together."
Beekman 1802 Goat Cheese Gooseberry Fool 
2 pints fresh or frozen gooseberries
1/2 C honey
1 C soft, fresh goat cheese
3 C heavy whipping cream 
In a heavy skillet, heat the gooseberries and 1/4C of the honey over medium heat until the berries have burst and softened. (Approx 4 minutes.) Either mash mixture with fork, or puree. Let cool, and chill in refrigerator.
In stand mixer bowl, beat goat cheese with remaining 1/4C honey on medium speed until whipped and softened. Spoon mixture into separate medium mixing bowl. Pour heavy cream to the empty stand mixer bowl, and whip until barely thickened. (Don't whip until stiff, as one would traditional whipped cream.) Gently fold the whipped cream into the goat cheese honey mixture, and allow to chill thoroughly.
To serve, spoon gooseberry mixture into decorative stemmed glasses until about 1/3 full. Top with cream, honey and goat cheese mixture. Garnish with raw gooseberry, or its cousin — red or black currants.