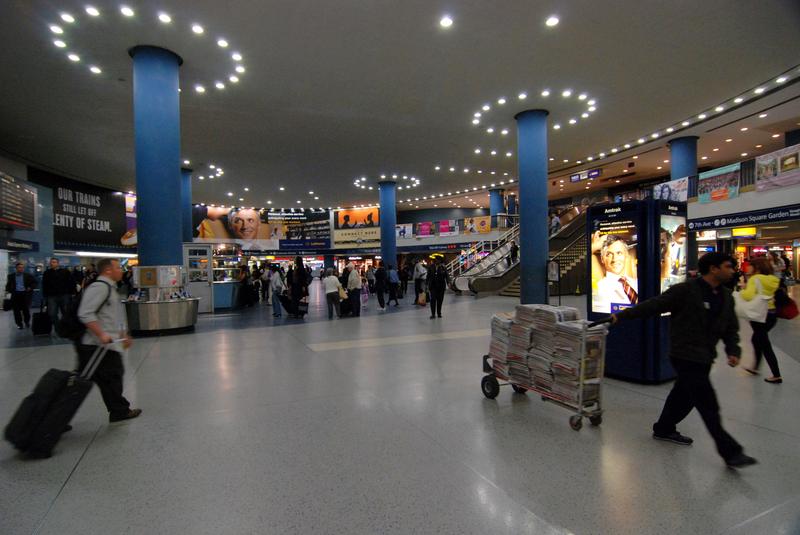 New Jersey Transit's 2014 budget holds fares steady and doesn't cut service.
That news alone will no doubt relieve transit riders. But perhaps equally heartening: the head of New Jersey's Department of Transportation is now taking a personal interest in bathroom cleanliness at Penn Station. (More on that in a minute)
At the agency's monthly board meeting on Thursday, the board approved a $1.941 billion operating budget and a $1.228 billion capital program for fiscal year 2014, which began this month.

"We are committed to going as long as we can possibly go" without raising fares, said Jim Weinstein, NJ Transit's executive director. "We think we're in a pretty good position to keep it going...we'll find ways to operate the system to the budget that's available."
Even though the agency suffered major losses during Storm Sandy in 2012, Weinstein says the storm didn't really affect the budget because the immediate cost of repairing damage to flooded train cars and other equipment was paid by the federal government and private insurance.

Prior to the budget discussion, the transit agency held its usual public comment period. NJ Transit passenger Albert Papp stood up to complain about what he said were persistently bad conditions in the bathrooms at Penn Station. "Last month at this very podium I mentioned to you that a deplorable situation existed in New York Penn Station's men's lavatory," he said. "It still exists -- but it gets better than that," he said, adding that a female member of his family said the women's room was equally vile.
He showed executives photos of missing soap dispensers, broken sinks and mirrors, even duct tape holding toilet paper rolls together.
Papp said the agency needs to pay less attention to its more high-tech endeavors, like giving passengers internet access, and more attention to the simple stuff. "While you can go ahead and put Wi-Fi in the trains for the thumb people, it would help if some of the basic necessities of the human individual are attended to," he told the board. "Let me say in closing that the condition of both the men's and women's restrooms in New York's Penn Station give new meaning to the NJ Transit motto 'The Way To Go.'"
Applause.
NJ DOT head Jim Simpson -- who doubles as NJ Transit's chairman -- apologized.
"You addressed this (last month) so I assumed this would have been taken care of," he said, adding that due to the complicated relationship NJ Transit has to Penn Station, the transit agency can't police the bathrooms for vandalism. "I know we can't have our Jersey Transit police there because of some stupid, arcane New York/New Jersey rule that's dumb." A few minutes later, when Simpson learned that it was the job of a third party vendor to maintain the bathrooms, he snapped "well, fire the third party! Tell the third party if this happens again, can them and we'll find somebody else who will do it!"
Later in the meeting he seemed to walk that statement back, suggesting that the people in charge of the bathrooms "need to be told to do a little MBWA - management by wandering around."
Both Simpson and Weinstein promised that the bathrooms in the New Jersey Transit concourse in Penn Station would shape up soon.