Does Spitzer's Sex Scandal Matter More to Women Voters?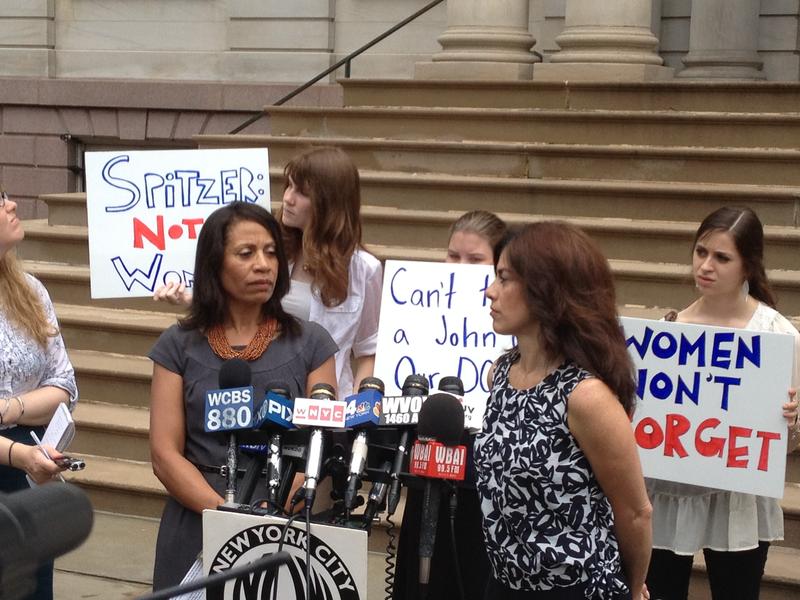 The head of the local chapter of a national women's advocacy group posed a question to a small gathering outside City Hall on Wednesday about Eliot Spitzer's aspirations to hold public office:
"Do we want an elected official who has broken the law and who has participated in sustaining an industry that we all know has a long history of exploiting women and girls?"
Sonia Ossorio, head of the local chapter of the National Organization for Women, put Spitzer in the same category as Anthony Weiner running for mayor after his sexually explicit tweets and Vito Lopez running for City Council after resigning from the Assembly over sexual harassment allegations.
Will these men, she asked, address the issues that matter women, "or are they just going to see us as objects?"
As Eliot Spitzer attempts to launch the second act of his political career, questions linger about the sex scandal that brought him down - and whether it will matter more to women.
When he was Attorney General, Spitzer got credit from advocates for shutting down a sex trade operation in Queens and as governor enacting what many consider one of the strongest state measures to crack down on human trafficking.

But Debbie Walsh, the director for the Center of American Women and Politics at Rutgers University, said for some women, there may still be lingering feelings of betrayal.
"That is not to say women voters writ large," said Walsh, who has studied the differences between how men and women vote in general elections, "but for those women who were working on this issue with him."
She said there's currently no solid voting data on how women and men evaluate scandal-scarred candidates. Walsh called the fall elections, "a test case."
Spitzer still needs to get enough signatures by midnight Thursday to get on the ballot. He held a petitioning party Wednesday night at a midtown restaurant on the ground floor of the Lipstick Building. Lynn Parramore, 43, was there as a supporter because she said she wants a comptroller who can take on Wall Street. (Photo by @RussOnPolitics)
"I like that he's a watchdog," said Parramore who added, after five years, she was willing to put the other things aside. A writer living in Chelsea, Parramore self-identifies as a feminist and said she respects that not all women will be ready to give him a second chance.  But she said women should be talking to each other about it, "hash it out."
Those conversations are sure to go on between now and the September primary - whether about Spitzer or other candidates.