SchoolBook
State Panel Explores Ideas in Teaching and Learning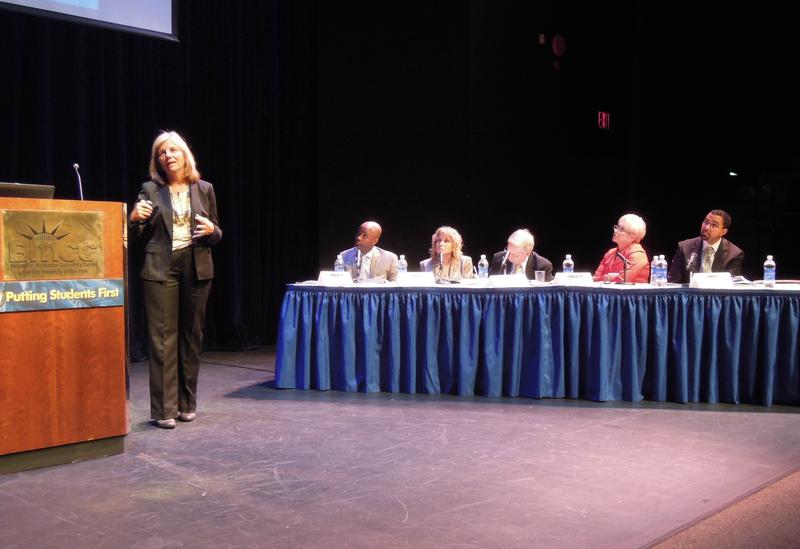 When it comes to the notion of schools as community centers, Cincinnati's name gets dropped a lot in New York City.
Members of the City Council, the teachers' union and several mayoral candidates have repeatedly gushed over Cincinnati's model to make schools neighborhood hubs, complete with amenities like health clinics, after-school programs, and meal service. Now Governor Andrew Cuomo's education reform commission is paying attention to Cincinnati too. 
On Tuesday the commission members, tasked by the governor to recommend ways to improve the public education system in New York State, heard from five experts on the latest trends in both teaching and learning. Julie Doppler, the Coordinator of the Community Learning Center Initiative of Cincinnati Public Schools was a featured guest.
"Schools and communities are closely linked," said Doppler in her presentation at the Borough of Manhattan Community College. "One rarely succeeds without the other."
She explained that the effort to create community learning centers took off a little more than 10 years ago with the need to build new school buildings or renovate dilapidated ones. To do that, the school district needed to turn to taxpayers, she said.
"We decided if we were going to go to taxpayers and we were going to build new schools in Cincinnati, we really wanted to look at how could we build schools in a city that became centers of community," she said.
Thus began a relationship, said Doppler, of school district leaders engaging the community to learn about what its ideal school would be, especially one that would stay open long past 2:00 p.m. She said parents brought up ideas like holding adult G.E.D. classes or keeping the school library open into the evening.
The model evolved, Doppler said, to align with classroom instruction by identifying which students needed extra academic help and matching them with the appropriate services. The centers also employ a full-time resource coordinator to stay engaged with the community.
Cincinnati will have community learning centers at 36 out of the district's 55 schools by this fall, Doppler said. The district serves about 33,000 students.
New York City has explored the community schools model on a much smaller scale by partnering with the Children's Aid Society on community schools in Washington Heights, Harlem, the South Bronx and Staten Island.
Other presenters at Tuesday's symposium included Joel Rose, co-founder and chief executive officer of New Classrooms Innovation Partners, who spoke about online instruction; Melanie Mullan, vice president for progrms at Turnaround for Children, who spoke about reaching students in high poverty schools; David Steiner, the former New York State education commissioner and current dean of the Hunter College School of Education, who spoke about graduate education programs; and Norman Atkins, co-founder and president of Relay Graduate School of Education, who spoke about teacher preparation and techniques in the classroom.