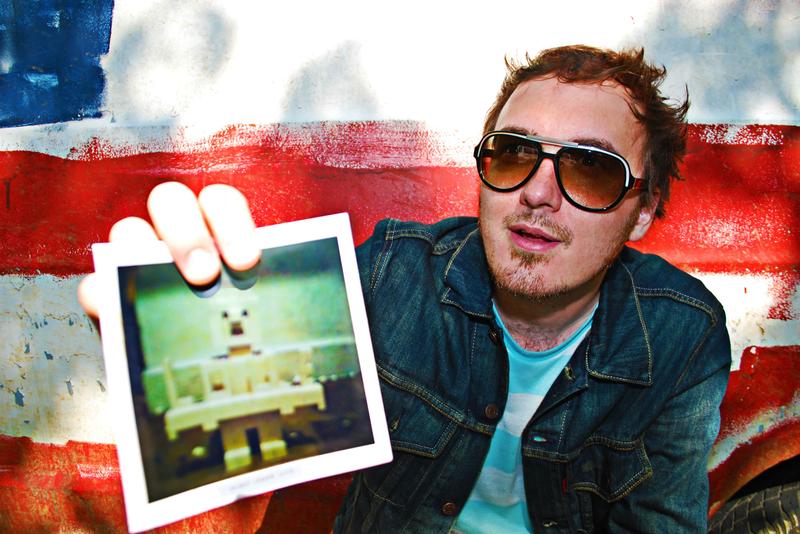 If you've somehow missed the video for "The Way To Wonder," the single from Kyle Andrews' upcoming Brighter Than The Sun, here's what you need to know: It involves an iPad, a camera, a weather balloon, and Kyle Andrews floating in the air.
No, not literally.
Andrews and director Will Holland spent two months researching whether their attempt at getting footage from the stratosphere would actually work. It did, and it pays off -- as the video is a fitting introduction to the Nashville-based electro-pop songwriter's unique approach to sharing his music.
Andrews has a history with high-concept viral videos: 2010's "You Always Make Me Smile" featured 4,000 people having a water balloon fight and the video for "Sushi" is comprised of thousands of YouTube video stills. And yet, this technologically entertaining spin isn't something the songwriter reserves for his music videos -- it's a thread that runs through his music as well.
On Brighter Than The Sun (out July 23), Andrews expands on his childlike creativity and wonder. The album is a sunny concoction of happy synths, whistles, and handclaps. And while the album brims over with outright jubilance, Andrews' music delves into melancholic undertones: On the opener "Lion," he tells the story of a bunch of kids having a pretty epic play date until they grow up and grow apart.
And at the core of Brighter Than The Sun, youth, its inevitable end, and the end of the world itself are recurring themes.
Or as Andrews puts it, "It was around the time that people were talking about how the Mayans predicted the world was gonna end." He adds, "It's silly, but in the back of my mind I was thinking, 'Well, just in case, maybe I should make another record.' And that led me to think about what kind of document I'd want to leave behind… you know, if the world were to end or if for some reason I never made another record. 'What kind of statement would I want to make?'"
Still, Andrews remains an eternal optimist in his songs. The lyrics in the bubbly "Crystal Ball" seem to have been spewed by a glowstick-clad teenager at their first Electric Daisy Carnival. And the equally effervescent and uplifting "Set Your Heart At Ease" finds Andrews declaring "Everything will be okay / It's not a sad song if everybody sings along." Most of the album's tracks don't stray too far from the upbeat synth pop creations he's been working on since the early 2000's.
Brighter Than the Sun takes Andrews' carefully cultivated bedroom pop sound and expands on it enough to build a community of sorts. It's an album for people like him: unabashed optimists. But it also has enough darkness and depth to appeal to those of us who may not necessarily feel like singing along. Brighter Than the Sun achieves Kyle Andrews' goal in songwriting: simply to make music that feels good.
Audio is no longer available for this feature.