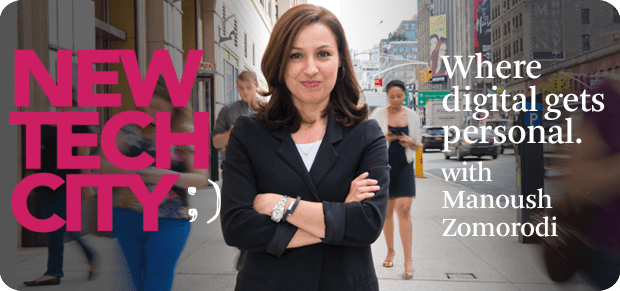 Episode #42
Hacking for Good
Tuesday, July 09, 2013
Hacking groups like Anonymous have gained notoriety for breaking into the websites and databases of corporations and governments. Chinese hackers have been accused of stealing intellectual property from the U.S. government and businesses.
But not all hacking is quite as secretive or sinister.
There are now education hackathons, sustainability hackathons, even Sandy recovery hackathons. 
This week New Tech City tackles the growing trend of civic hackathons where teams of programmers collaborate to solve problems plaguing local government by creating new software or apps in just a few hours or a weekend. 
As WNYC's Ilya Marritz reports, price-gouging at bodegas in Newark was one of three problems participants took on at one such hackathon run by the Wagner School of Public Service at New York University.  (If you've participated in a hackathon, take our survey!)
Plus, host Manoush Zomorodi speaks with the Atlantic Wire's Rebecca Greenfield about the future of the password: Biometrics? A pill? Maybe a physical key?
This is an extended podcast of New Tech City. You can listen to the broadcast version every Wednesday morning at 5:50 and 7:50 a.m. on WNYC 93.9 FM and AM 820 and New Jersey Public Radio or subscribe to the program on iTunes. 

The explosion of civic-minded hackathons raises the question of what the organizations funding them are trying to accomplish. 

There's been an explosion of hackathons in the last couple of years, including the civic hackathons New Tech City reported on this week. Have you ever attended one? If so, take our survey and let us know how it went. We'll be crunching the data and answers and reporting back to you on some of the trends. 

People in the tech world have sometimes been accused of catering mainly to their own needs, with apps for hailing taxis and finding romantic partners. But there's another movement afoot – so called "civic hacking," aimed at solving serious problems.