SchoolBook
Parents Nudge Their Children Back To (Summer) School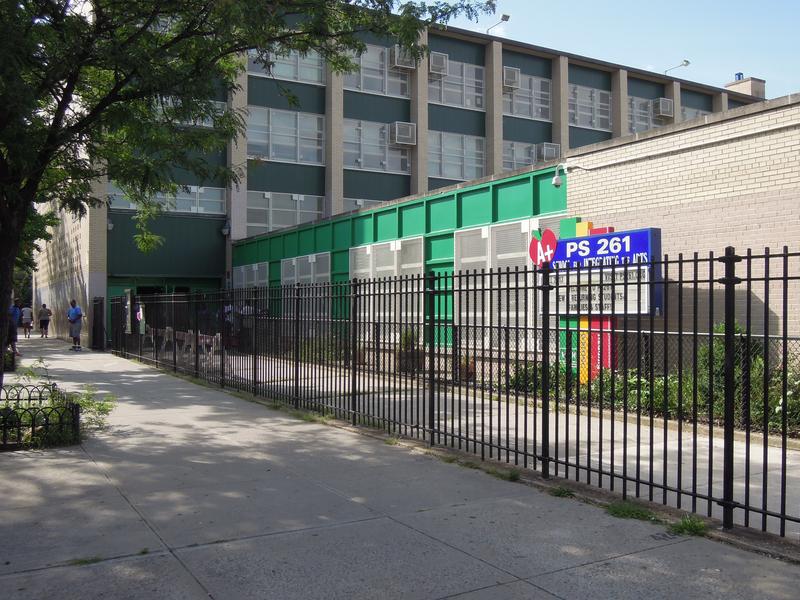 A slow but steady parade of parents checked their children into P.S. 261 Philip Livingston in Boerum Hill, Brooklyn on Monday morning. Some students were there to attend one of the summer camps taking place in the building while others signed in for the first day of summer school.
Kecia Maddocks brought her fourth-grade son, Sameik, to summer school for extra support after he failed the state math test. He attends P.S. 261 during the school year so she said coming to school was part of his normal routine. 
"Getting him up is hard, but once he's up he's fine," she said. "He just likes coming to school."
Candice Williams Hall brought her twin daughters, rising first-graders, to a summer camp run by Good Shepherd Services taking place in the building.
"My interest is for them always not to be bored," she said. "It's a free program for us, which we need desperately for parents that are working full time."
A parent named Patricia, who declined to give her last name, appeared stressed after dropping off her son, who just finished the fifth grade. He needs to re-take a state English exam after failing it this spring.
"I feel like it's my fault," she said.
She dabbed sweat off her brow as she explained that her son had to attend summer school after the third and fourth grades as well, though he has always advanced to the next grade in the end.
She said that her son needed more focus in the classroom and at home. She has set new rules for the summer, including no television in the afternoon and use of her Kindle for reading only when she was sitting with him. Otherwise, he would play games, she said.
Another mom, Atiya Stroman, said her son, who just finished third-grade, must attend summer school after failing to pass the state English test. He has already repeated the third grade, she said. Despite these setbacks, she remained positive that he would be able to advance.
"Between me and his dad, we stay on his butt 101 percent," she said, and added, "He tries very hard. He's just hyperactive."
Stroman said she visited a teacher supply store in downtown Brooklyn in order to pick up workbooks for her son to use after school. She is also enrolling him in a football program in Bedford-Stuyvesant to keep him busy in the afternoons. He also likes to play chess, she said.
Stroman said she was also enrolling her older son, a rising eighth grader, in summer school even though his test scores were high enough to advance to the next grade. The extra schooling, she said, will help prepare him for the eighth grade and beyond.
"I've been drilling in them since they were in the womb: College. You're going to college."