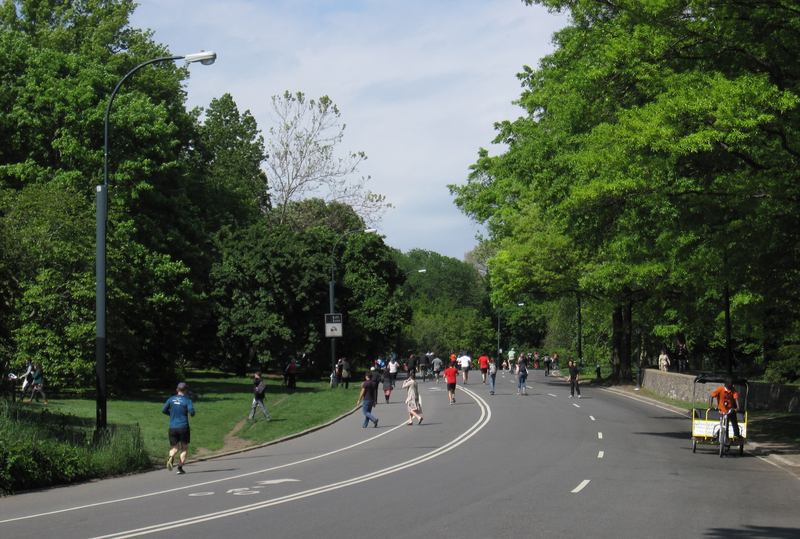 Pedestrians and cyclists, start your engines: Central Park's East and West Drives will be just for you. At least until Labor Day.
New York's Department of Transportation announced the change -- which effectively bans cars from the park north of 72nd Street -- as part of its 2013 Summer Streets offerings.
Summer Streets is an annual event that closes miles of New York roadway to car traffic so pedestrians can perambulate, bike, do yoga -- or, in the case of some of the more adventurous activities, ride a zip line or participate in a "fitness zone." It is similar to Cicolvia in Mexico City and the cleverly named Los Angeles variant, CicLAvia.
Normally, Central Park's East and West drives accommodate car traffic for a few hours each weekday. But the Department of Transportation says during the summer, pedestrians and cyclists outnumber cars on the drives by three to one. And, the agency adds, the closure to vehicle traffic "is possible because of decreasing car volumes in recent years on both the park drives and adjacent roadways."
New York City council member Gale Brewer has been advocating for a car-free Central Park for years. "I've had a bill in City Council, believe it or not, since 2006," she said.
Despite that, she says she was "totally caught off guard" by the news. "I was ecstatic when I received a call yesterday from the Department of Transportation indicating that from today until September 3, there will be no cars going on the East or West drives except below 72nd street," she said.
Although the DOT says cars will return to the drives after Labor Day, Brewer hopes it will become permanent. "It's perfect timing to see how it works," she said, "and then we'll see if it's possible to continue it."
That view was echoed by bike and pedestrian advocates. "Central Park, Manhattan's own backyard, will be a lot safer and more inviting for New Yorkers this summer," said Paul Steely White, the executive director of Transportation Alternatives a cycling and road safety advocacy group, in a statement. "This is a welcome development for all who utilize the park on foot or bike."
A spokesman for Mayor Bloomberg said if the program is successful, the city could continue it next summer. Perhaps by then, a cultural shift could be taking place: the neighborhoods bordering the park might -- we stress might -- have bike sharing stations. (The Upper West and East Sides were initially included in Citi Bike's launch plans, but were excised when the rollout was pared back.)
Although the hours cars are permitted in the park have been shrinking, Mayor Bloomberg had resisted the idea of banning them outright. And keeping cars off the East and West Drives doesn't mean the park is entirely car-free: vehicles will still be allowed south of 72nd Street, as well as on the transverses.