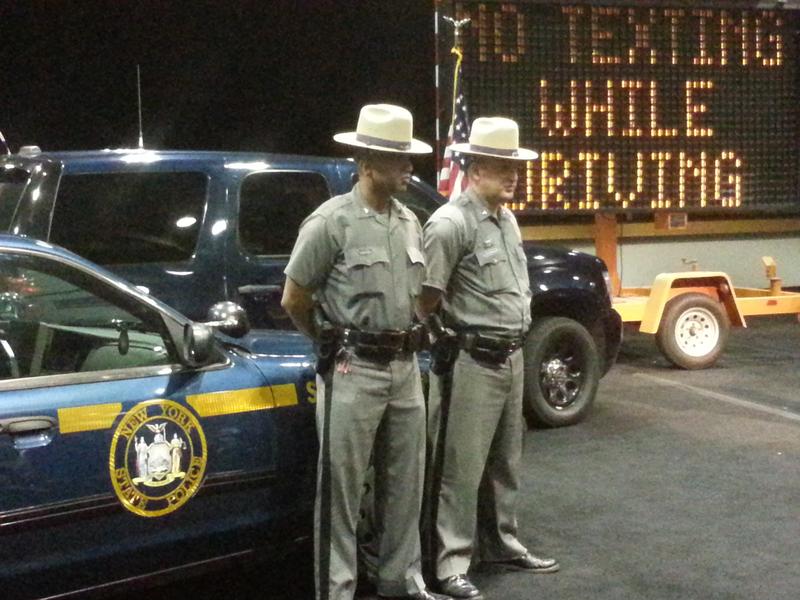 New York State Police will use special undercover SUVs to catch distracted drivers as part of a summer crackdown starting this July 4th holiday weekend.
The usual drunk driving checkpoints will be in place, but State Police Superintendent Joseph D'Amico says undercover patrols -- in higher vehicles -- are an effective tool for catching drivers who might be using a cell phone to text or email low down in their lap.
The SUVs are specifically designed for this purpose. "They have a much higher platform than your average car and it allows our troopers to be able to observer drivers and violations more discretely" and to see down into a car more effectively, said D'Amico. 
Governor Andrew Cuomo announced the crackdown in Manhattan on Wednesday while standing in front of two of the new SUVs. This comes just two days after a separate event where Cuomo signed a bill to toughen penalties for new drivers who text behind the wheel.
"Today's message is simple," he said. "Distracted driving kills and it is getting worse."
Cuomo likened distracted driving to road safety scourges of previous generations, specifically drunk driving and low rates of seat belt usage in the 1970s and 1980s.
As governor of New York in 1984, Andrew Cuomo's father, Mario Cuomo, signed the nation's first mandatory seat belt law into effect.
"I believe (if) we do this right," the younger Cuomo said, "the same way we can look back now and say, 'I can't believe people never wore a seat belt' ... we'll get to a point a few years from now where we say, 'I can't believe someone would think about texting while driving, that's crazy.'"
The summer crackdown patrols are a "significant increase" in undercover enforcement throughout the state -- but they may not happen within the five boroughs of New York City. 
While State Police are permitted to make traffic stops within New York City, they rarely do so. The NYPD is not directly involved in Cuomo's crackdown. NYPD did not immediately respond to a request for clarification if it would also be increasing distracted driving enforcement using undercover SUVs this summer.
The distracted driving crackdown will be funded up to $1 million from money earned from "seized asset accounts."
In New York, about one in five crashes is a result of distracted driving, according to the governor's office.