SchoolBook
French Official Applauds City's School Lunch Program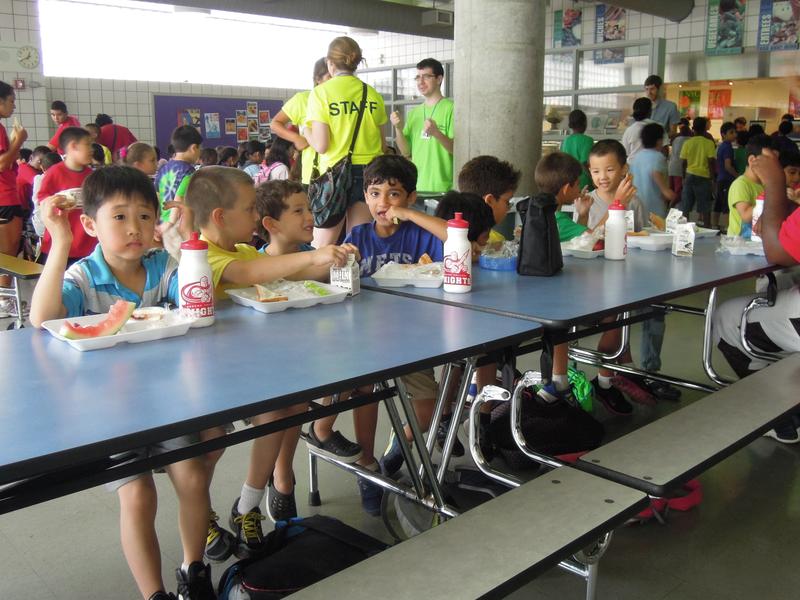 While France is known for its culinary heritage and eating habits -- it is a country where people, on average, devote more than two hours per day to meal time -- there is at least one area of cuisine French officials said Tuesday they have room to grow: school cafeteria food.
On Tuesday, Guillaume Garot, the French Junior Minister for the Food Industry, visited P.S./I.S. 499, the Queens College School for Math, Science and Technology. Schools Chancellor Dennis Walcott brought him for a taste, literally, of New York City cafeteria cooking. Garot said he would like to learn from New York's best practices when it comes to getting students to eat healthy meals.
"I'm very impressed by the concept of 'school food' and how to show that there's a link between the food and what we eat and everything else in the education system," said Garot, through a translator to reporters.
He said that France faced many of the same health challenges as the United States, including the need to educate students on healthy food, provide balanced meals at school, fight childhood obesity and control food waste.
Garot, in town for the Fancy Food Show, was served from a lunch menu of barbeque chicken, rice, sweet plantains and broccoli. He had the option of taking fresh fruit, like grapes or watermelon slices, or fresh vegetables from the salad bar.
Garot said he was particularly taken with the salad bars and the variety of options available to students in general. New York City intends to have a salad bar at every school by the end of this calendar year, Walcott said. About 1,000 schools already have them.
Walcott said that school meals have been made healthier by eliminating trans fats, using wheat instead of white bread and baking, rather than frying, french fries.
Though the K-8 school was out for summer, students taking part in a summer camp brought the cafeteria buzzing to life.
Johnny Cadet, 10 and visiting from Berkeley, California, said he preferred the food here to his elementary school back home.
"They make it taste better and have more fruits," he said, as he munched on a watermelon slice.
Alexan Varelas, a rising fifth-grader at P.S. 203 Oakland Gardens said she was enjoying the plantains even though she was not sure what they were. She also appreciated the option to have a peanut butter and jelly sandwich, since her school cafeteria is peanut free. "I love peanut butter," she said.
Many New York City schools will offer peanut butter and jelly or pizza as an alternative to the regular meal served during lunch. In France, according to the diplomatic staff traveling with Garot, students would likely have back-up options of cheese, fruit or yogurt. Never pizza.