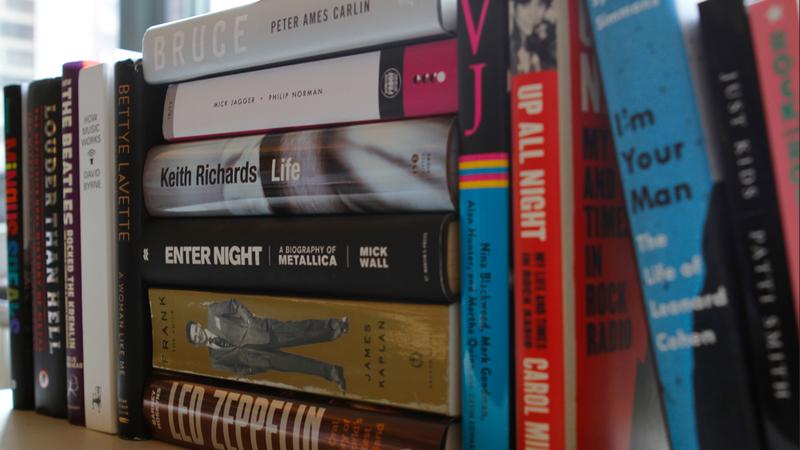 All this week on Soundcheck, we're showcasing some of our favorite interviews with writers as part of our series Writers Club. We've heard from novelists and authors inspired by music, musicians inspired by literature, and a lot more.
We here at Soundcheck also churn through a lot of books ourselves. And since we're smack dab in the middle of summer, it seems as good a time as any to recommend a few of our favorites.
Whether you're sitting on a beach, relaxing at the pool, or simply escaping the peaking temperatures, hot sidewalks, and unrelenting, soupy humidity inside, there's something for everyone on this list: Hip hop biographies, tour diary memoirs, punk histories, surreal music-adjacent novels and illustrated blues companions. So pour yourself some lemonade, get yourself some snacks, and kick back with one of these fantastic music books. 
THE FORTRESS OF SOLITUDE
by Jonathan Lethem (Buy on Amazon)
In his novel The Fortress Of Solitude, Jonathan Lethem paints a remarkable portrait of New York in the 1970's -- from his convincing account of racial mistrust in a rapidly changing city, to his poetic description of the evening sun casting shadows on the blue slate sidewalks of Brooklyn. And because his protagonist is growing up in New York in the '70s, he's there at the birth of both punk and hip-hop. Lethem has written more extensively and specifically about music elsewhere (most recently in his 33 1/3 book about Talking Heads' Fear Of Music), but never more evocatively than in this book. Steamy summer night battles between turntable-wielding DJs in a Brooklyn schoolyard; the studied cool and the genuine passion of punk's so-called "blank generation;" the bewilderment of parents whose musical ideas formed in the '50s and '60s. These are not the subjects of the story -- which eventually takes a left turn and leaves both the city and absolute realism behind -- but they are inextricably woven into the fabric of the characters' lives. (John Schaefer)
-----
YOU DON'T KNOW ME BUT YOU DON'T LIKE ME
Phish, Insane Clown Posse, and My Misadventures With Two of Music's Most Maligned Tribes
by Nathan Rabin (Buy on Amazon)
When people find out I used to be really into Phish in high school, I always try to qualify it by explaining that where I grew up -- your typical sleepy Kansas City suburb in the mid-to-late 1990's -- grunge and Britpop were practically gone, and me and my friends didn't know much about good hip hop or indie rock until much later. So if you weren't listening to the increasingly narrow and bland pop and rock radio, jambands like Phish were our so-called alternative music. And for me, loving Phish served as a gateway drug... to other types of music: classic rock, funk, and especially jazz. Still, that negative reputation of Phish as messy hippie music lingers around this band like three-day-old patchouli.

In his latest book, You Don't Know Me But You Don't Like Me, former A.V. Club writer Nathan Rabin gets at this type of social stereotype, by following Phish and another equally-derided and misunderstood band Insane Clown Posse around the country. On the surface, Phish and ICP may not have much that connects them: one is known for feel good jams, oddball lyrics and general hippie doo-dah-ing, while the other is built around black and white clown makeup and rap rock with violent imagery. And yet both Phish and ICP are incredibly beloved within their diehard fanbases with surprisingly strong communities built around positivity and togetherness. Part tour diary, part memoir recounting Rabin's own bi-polar disorder diagnosis, this book can be a tough read. But as you dig in, you can begin to see the appeal of divisive groups like Phish or ICP, if not for the music, then at least in how both acts are actually more lifestyle and surrogate family than band. (Michael Katzif)
-----
OUR BAND COULD BE YOUR LIFE
Scenes from the American Indie Underground 1981-1991
by Michael Azerrad (Buy on Amazon)
It's never too late to pick up a classic. Michael Azerrad's Our Band Could Be Your Life: Scenes from the American Indie Underground 1981-1991 is as fascinating and engrossing a read as when it came out more than a decade ago. Long considered the bible of indie rock, the book focuses on the stories of underground heroes like Fugazi, Sonic Youth and Dinosaur Jr. -- bands that in many ways helped to define both the sound and ethos of independent music.

In 2011 Azerrad celebrated the book's tenth anniversary with a concert at New York's Bowery Ballroom. A sold-out crowd listened to more contemporary acts, including Dan Deacon, tUnE-yArDs and St. Vincent -- many of whom have cited Our Band Could Be Your Life as an influence -- pay tribute to the 1980s indie trailblazers. You can hear the whole show at NPR Music, and if you listen through to the end, that exuberant cheering you hear is for Azerrad himself, as he leads the crowd-surfing charge. (Gretta Cohn)
-----
MO' META BLUES
The World According To Questlove
by Ahmir "Questlove" Thompson, Ben Greenman (Buy on Amazon)
Ahmir "Questlove" Thompson's Mo' Meta Blues (co-written with New Yorker editor Ben Greenman) is more of an extended playlist than a memoir. It's a meandering, music-laced amble through the life and times of the fro-picked drummer and bandleader of The Roots. Like smell triggers memories for some, records, and sometimes, their album covers, recall memories -- some fuzzy, some sharp -- for Q.

The narrative jumps between traditional storytelling, two-way interviews with Roots manager Rich Nichols, side-e-mails from Greenman, and a list of albums that best represent the first 22 years of Questlove's life -- starting with Stevie Wonder's Music Of My Mind and ending with A Tribe Called Quest's Midnight Marauders and Wu-Tang Clan's Enter the Wu-Tang (36 Chambers). It's a book that keeps you on your toes, and a book that, despite doing a hell of a lot of name dropping, never becomes annoying or tiresome.

And a side note: Can we talk about the obligatory memoir baby pics for a sec? Those cheeks!!! (Katie Bishop)
-----
LEGENDS OF THE BLUES
by William Stout (Buy on Amazon)
I've never understood the draw of reading at the beach. With all the activities the beach offers, why spend hours escaping into a novel? If volleyball is good enough for Maverick and Goose, it should be good enough for everyone. That said, even the most elite fighter pilots need to steal a few minutes of respite away from the sun.

That's why this summer, I'll be stuffing my beach bag with William Stout's Legends Of The Blues. The easily pageable book is filled with gorgeous images of blues masters, drawn by Stout in the style of R. Crumb's Heroes of the Blues trading card set. Stout also includes fascinating bios culled from hundreds of hours of research and packed with facts that will appeal to fans both new and old. For example: Did you know that Mississippi Fred McDowell was buried in a silver lamé suit bought for him by the Rolling Stones? Or that Screamin' Jay Hawkins fathered fifty-seven children? (Give or take.) This is the kind of knowledge that's going to make the long, sunburned ride home just a little more tolerable. (Alex Kapelman)
-----