Explainer: What's a Flash Flood Warning Anyway?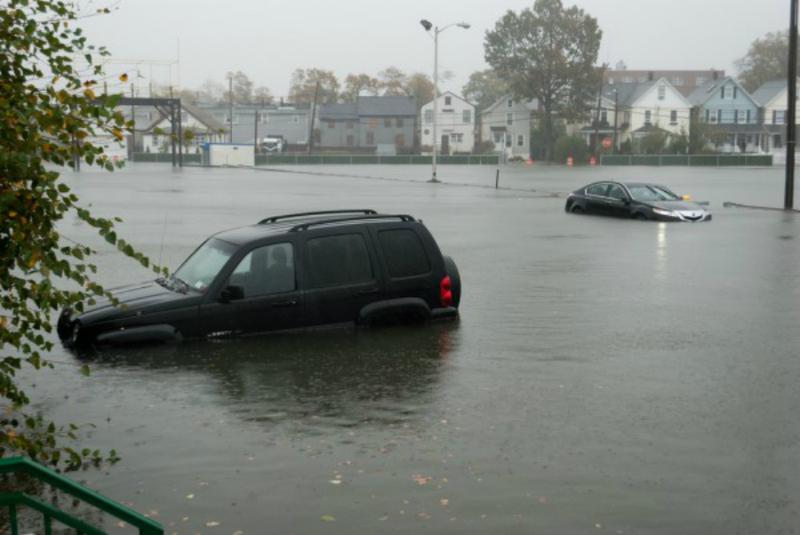 When there's heavy rain, New York City-area residents may receive an ominous-sounding message from the National Weather Service: Flash Flood Warning, Avoid flood areas. But what does that mean?
What is a flash flood?
A flash flood is rapidly rising water that usually occurs within two hours of the start of high intensity rain. 
My phone buzzed with a warning from the National Weather Service. Do I really need to be that concerned?
It depends. Are you driving? Do you live near a stream or creek? Do you live in, or are you traveling through, a low-lying area?
"Almost half of all flash flood fatalities occur in vehicles," according to the National Weather Service. Two feet of water on a bridge or highway or below an underpass can float most vehicles. If the water is moving swiftly above a creek, the NWS warns, a car - or truck or SUV - can be swept off a bridge and into the water below.
Most danger occurs near streams. You might think that counts Manhattan out. But many streams that were once part of the historic landscape are now re-routed through underground storm drains. New York combines storm water with waste water, which means that those drains can be quickly overwhelmed in flash flood conditions, flooding roads and buildings with waste.  
New York and New Jersey are especially vulnerable to flash flooding because large residential and commercial buildings, highways and paved streets reduce the amount of rain that the ground can absorb. Plus - Manhattan, the Bronx and Queens are hilly and built on bedrock, not sand. "There's no natural place for the water to go, except down the concrete and rock faces like in Central Park," said geologist Nicholas Coch to WNYC's Amy Eddings. "There's a much higher frequency of flash flooding because there's nothing to soak up the water."
The NWS says: "Low spots, such as underpasses, underground parking garages and basements, can become death traps." That said, there have not been any recent deaths in the New York City area due to flash flooding.
What should I do?
Most important: do not drive into a flooded roadway or through flowing water. Stay away from underpasses and other areas that are prone to flooding. If water reaches the top of your tires, your car can be swept away - so if water rises around your car, leave and move to higher ground. Do not walk through moving water. Six inches of moving water can make you fall. If you must walk through water, walk through an area where the water is not moving; use a stick to check if the ground in front of you is firm enough to walk on.
Flash flooding happens very quickly and can be very dangerous. If you are in an area vulnerable to flash floods, do not wait to move. As soon as you receive a warning, move immediately to higher ground.
Where can I find more information?
A brochure on flash floods from the National Weather Service.
Flood safety information from the Red Cross.
To listen to Amy Eddings' interview with Dr. Nicholas Coch, a geology professor at Queens College, click the audio above.