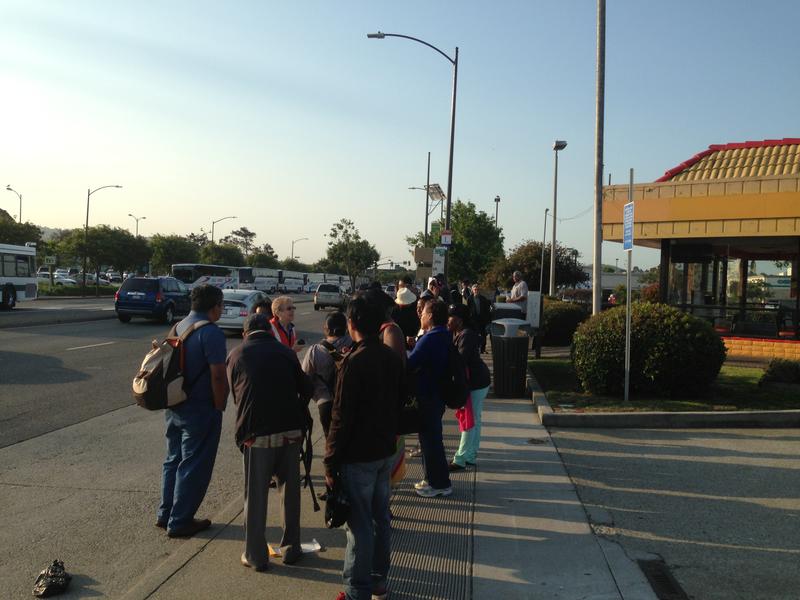 With BART transit workers on strike for the first time since 1997, San Francisco residents are getting creative with their commutes. 
With subway cars stuck in the depot, BARTocalpyse was causing major trouble through the Caldecott tunnel and into Oakland. The San Francisco Bay ferries coming from the East Bay to SF had three times the normal ridership this morning with wait times peaking at 40 minutes at 7 a.m. Carpooling was a common alternative to the usual rail routes with lines backing up at casual carpool stations. The ride sharing app Sidecar reported a 40 percent jump in usage over last Monday morning.
Chase Thomas said it took him two hours to get to Potrero Hill from Martinez, an 35-mile trip that usually takes an hour. 
The scene was calm at the El Cerrito del Norte BART station at the Richmond border. That's where I was this morning, trying to get to Potrero Hill in San Francisco.
Del Norte is one of the four stations in the East Bay where BART is providing a free round trip shuttle to Oakland and San Francisco, and several main AC Transit lines run right by it. An AC Transit official monitoring a nearby stop said there were a lot more riders than usual. That might have helped congestion at the nearby casual carpool line, where there were about 20 cars waiting for riders to walk up.
There wasn't a lot of tension, as people seemed relieved they could get to work and resigned to the fact it would take a lot longer than usual.
I got into the carpool line around 8:15 a.m., and immediately found a car that already had two people—my first bit of luck. We got on the freeway, which was slow but moving. We zipped along across the carpool flyover to the Bay Bridge. I got my second bit of luck when the driver was nice enough to drop me off just five blocks away from work, instead of in the middle of Downtown San Francisco.
Door to door, it was about an hour—not much different than my usual BART ride! I know others had a tougher time—especially from Oakland—but my experience wasn't too bad. I even got a great view of the new Bay Bridge along the way. But then again, I'm not sure how I'm getting home.
Follow Isabel Angell on Twitter.