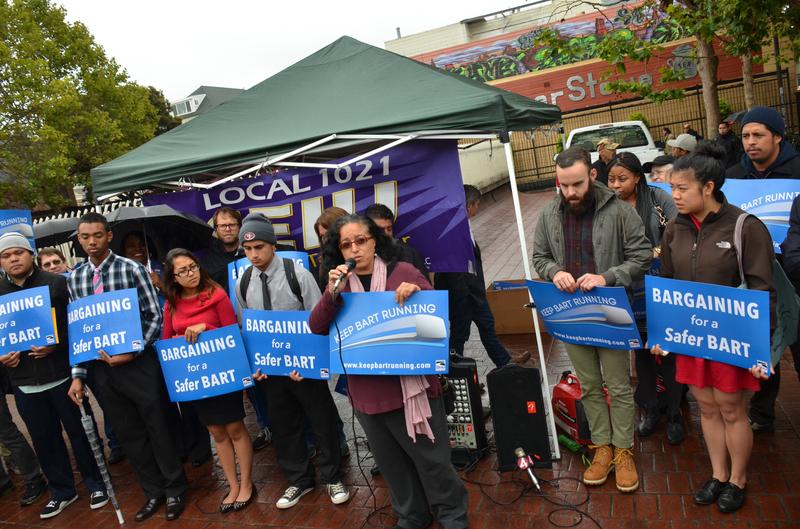 Bay Area Rapid Transit workers are now on strike after failing to reach a deal on contract negotiations.
The 400,000 commuters who rely on the San Francisco-area rail system are now having to find a different way to get to work.
The transit agency's two biggest unions, which represent train operators, station agents, and maintenance staff, walked out on negotiations Sunday afternoon after they rejected BART's latest contract proposal.
In a press release, BART spokesperson Rick Rice said the agency had doubled their pay increase offer from four to eight percent over the next four years, and had lowered employee contributions to health care and pensions.
"The new offer will ensure that - even with new contributions to health care and pension programs - all BART employees will see a net increase in total compensation," he said.
In a letter to BART negotiators earlier on Sunday, the unions leaders said the extra four percent came from a series of conditional raises they claimed would be nearly impossible to meet. They called the offer an "illusory wage increase" and a "rank PR stunt."
BART is urging its 400,000 daily riders to work from home or find other ways to work, like casual carpools and buses. BART will also be running a shuttle out of the El Cerrito del Norte, Walnut Creek, Dublin/Pleasanton and Fremont stations in the East Bay into San Francisco in the mornings and back again in the evenings.
BART workers haven't gone on strike since 1997, when the system halted for six days, causing massive gridlock. Back then, daily ridership was around 275,000.
To complicate matters, union workers from AC Transit -- which provides bus service for a large part of the East Bay and runs several transbay bus lines-- are having their own contract negotiation problems. Their contract also expired last night, but union leaders have said they will give 24 hours notice before a strike.
They haven't done so yet.
Follow Isabel Angell on Twitter.