SchoolBook
After 12 Years of Bloomberg, Data Reigns in the Schools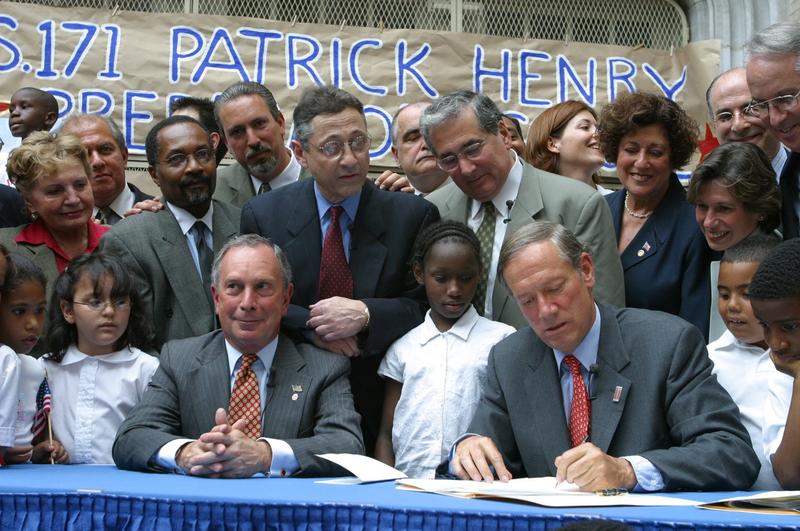 It's no surprise that a mayor who built his fortune developing a computer system that gave the financial industry access to immense amounts of data would apply a technocratic approach to government. But Michael Bloomberg's belief in data changed the entire conversation about public education in New York City by focusing on tests like never before.
The big change came in 2007, when the Bloomberg administration released its first A-F school report cards.  The Department of Education had begun using a new data system called ARIS, which was able to track how much progress students made on their state exams from one year to the next, and compare them to schools with similar populations. This meant schools with low scores could earn an A if they showed a lot of progress. It also meant schools with high test scores could get low marks if their students didn't continue to improve.
(For more key dates from Bloomberg's education record, check out WNYC's timeline.)
The system immediately came under attack, at first from families and school staffers who thought it was unfair such as those at I.S. 289 in Tribeca which earned a D, even though it had some of the highest test scores in the city. But, one year later, Bloomberg proclaimed the grading system a success because, he said, it forced schools to focus on progress.
In November 2008, Bloomberg appeared at P.S. 5 in Bedford-Stuyvesant to announce that the school's report card had gone from an F to an A. And it wasn't the only school whose grade had gone up. Thirty-eight percent of the schools received A's, up from 23 percent last year, said Bloomberg, rattling off statistics for the city's elementary and middle schools.  
Joel Klein, school chancellor at the time, explained how the report cards amounted to more than just numbers and letters. At P.S. 5, for example, its students - on average - gained almost a half proficiency level from the beginning of the year to the end of the year in math, he said, putting the elementary school ahead of others that made little or no progress. 
Bloomberg credited the progress reports with helping P.S. 5 make adjustments after getting the F in 2007. "And that's exactly the reason to have grades," he said. "To show you what you haven't done yet and to give you an impetus to improve."
Tracking Student Performance
Five years later, P.S. 5 is still using data to figure out how to improve, even with its youngest pupils. In first-grade teacher Christina Alicea-Cosme's classroom, her students chart their reading levels throughout the year in their own notebooks. 
Principal Lena Gates said she and her staff were "devastated" after getting the F in 2007. But she said that forced everyone to pay more attention to student progress. She said teachers always had done this, but it wasn't as formal. "I ask teachers: 'How do you know that your children are making progress?' And they look at each individual child," she explained. "And teachers will tell me, 'I used this, I used this, I saw this wasn't working. I changed to this method.'"  
(Photo: Principal Lena Gates says she has embraced data as a tool to improve instruction at her school, P.S. 5 in Brooklyn. Jeannie Choi for WNYC)
But the school has yet to get another A on its city report card. It fell to a C, and then kept getting B's. Despite some refinements, the grades are still based largely on how students perform on the annual state exams, not on their class work. Gates said the system is fair, but she also conceded that it has put everyone on edge. "We don't know what happens if the school falls below a certain level," she said. "Everyone is afraid. Am I going to work next year? What's going to happen if the students don't make it?"  
Data versus Testing  
Critics say Bloomberg's focus on data is overly simplistic, because it relies so heavily on test scores.  "The data is not education," said Diane Ravitch, an education historian and research professor at New York University.  Ravitch has spent the past decade debunking Bloomberg's claims of school improvement. There's nothing inherently wrong with tests, she said, if teachers use them to figure out which students need more help. 
But to use the test scores to close schools, to use them to award bonuses, distorts the purposes of the tests, she said. "None of the tests now in use were designed for those purposes."
(Photo: Diane Ravitch is an education historian and NYU professor. She is holding her latest book, coming out this fall. Beth Fertig/WNYC)
During Bloomberg's first two terms, scores went up on the state exams for elementary and middle school pupils. In 2010, the state acknowledges its tests were too easy and so made them tougher to pass. Suddenly, the city pass rates fell by double digits, from about 70 percent of elementary students reading at grade level in 2009 to less than half in 2010. This is one reason why Ravitch thinks national assessments are more reliable.
Graduation Rates Go Up 
Big changes are easier to see on the high school level. When Bloomberg took office, the four-year graduation rate was less than 50 percent. Today it's more than 60 percent. 
"There is no doubt that that the graduation rate went up in New York City," said Raymond Domanico, the director of education research at the city's Independent Budget Office.
He credits the strategy of closing large low-performing high schools with small, new schools that have higher graduation rates on average. In the past decade, more than 160 schools have closed or are in the process of closing. Four times as many new ones have opened. 
Critics, including Ravitch, have questioned the quality of all those new high school diplomas. Roughly 80 percent of city students attending CUNY community colleges need remedial math or English. The closure of so many big city high schools was also controversial in the affected communities. Many of the schools were neighborhood institutions, such as Jamaica High School, Columbus High School, and Paul Robeson High School. 
Parents and students said the city should have worked harder to help them improve instead of closing them. On a winter night in 2010, Violet Hernandez went to a public hearing to oppose the closure of  Metropolitan Corporate Academy High School in Brooklyn, where her son was a student. 
"They said that that school is under-performing. That is not true, whatever standard they are using to measure it is totally wrong," she said, while waiting in a long line to enter Brooklyn Technical High School where a panel dominated by mayoral appointees was about to vote on closing 19 schools. 
Measuring Teachers 
The use of test scores expanded beyond school closures to include measuring teacher performance in ways critics found just as simplistic. 
In 2011, Lynda Costagliola, a teacher at P.S. 3 in Brooklyn, said she was angry to learn she was scored as "average," largely because her high-scoring pupils didn't make big improvements on their state exams.
"I don't look at their reading scores and say, I know I'm a good teacher because everybody scored this," she said. "I know I am a good teacher because I am motivating my students. I am motivating them to learn. I am motivating them to be here. I am motivating them to feel good about themselves."
Although many parents have supported the mayor's education policies, the emphasis on test scores has been hotly disputed. This spring, a few dozen Brooklyn families staged a demonstration outside City Hall against what they called high-stakes testing. Eight-year-old Dov Alperin described how his third grade class spent too much time on test prep. 
"Instead of just preparing for the test by pretending to take it, I think we should actually take more time learning," he said. 
The Wave of the Future 
But these days, schools and teachers are being held accountable for results. The No Child Left Behind law, which required states to conduct annual tests in exchange for federal funding, started the trend that continued under the Obama administration's  Race to the Top program. Race to the Top rewarded states that used exams and data systems to track the performance of students and teachers, among other initiatives.  
In February 2009, Education Secretary Arne Duncan visited a charter school in Brooklyn where he was unequivocal in saying the U.S. needed to raise its standards in order to compete on the global stage.
"We should be able to look every second grader in the eye and say you are on track to be able to go to a good college or you are not" he said, giving an example of how data and testing could be used to prevent children from falling behind. 
At the same event, Bloomberg said he considered data analysis a critical component to effective teaching. "They customize their services to each student," he said of teachers. "If they don't know whether the student needs something, how can they do that?" 
The Democrats running for mayor have said they would put less focus on test scores when it comes to grading schools and closing them. But, starting next year, test scores will count as part of a new teacher evaluation system. And schools data is here to stay. The state is spending some of its $700 million in federal funding to build a new data system. Which means the systems Bloomberg put into place will still be around - and required - for his successor.