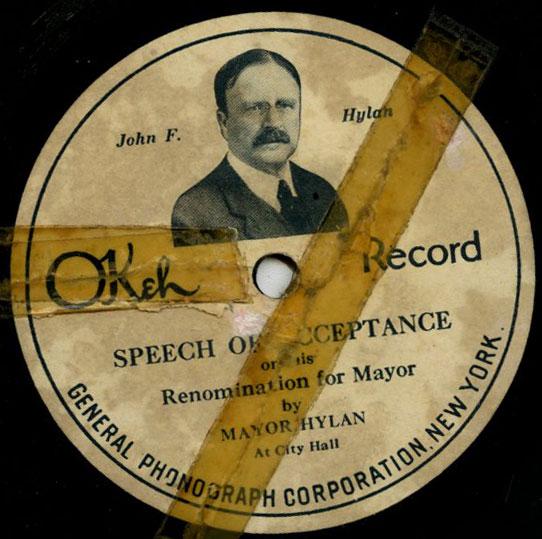 As we enter the back stretch of the current mayoral campaign, there have been a lot of competing voices for the city's top spot. For contemporary oratory, what we've heard so far has been fairly standard: frequently finding fault, at times dogmatic, often punctuated with clichés, promising the moon, but always familiar in tone. The candidate, after all, needs to look and sound appealing to win those votes.  Oddly enough, it wasn't always this way. Let's dial back the years to the earliest recording made of a New York mayoral candidate, incumbent Mayor John F. Hylan, in this abridged re-creation of his Primary renomination acceptance speech from the fall of 1921. [1]
Staged crowd applause aside, Mayor Hylan's leaden monotone delivery is pretty typical for a public official or statesman's recorded speech at the time: similar recordings can be found at the Library of Congress' American Memory project as part of the Nation's Forum series, the last pre-radio presidential campaign presented on phonograph records in 1920. Today's listeners, accustomed to livelier deliveries from politicians, may wonder how these folks ever made themselves sound appealing enough to win an election. No doubt they had forgiving Victrola listeners, given the novelty of the technology. Before radio took over, spoken word shellac discs were effectively the Twitter of their day.
In this recording (the original speech was delivered October 5, 1921 from the steps of City Hall), Hylan drones on about the need for home rule in opposition to the Governor's appointed Transit Commission, which he charges has the power to "nullify subway contracts and take away the five-cent fare." Calling it one of the "supreme issues" of the day, Hylan argues for municipal control and taking the subway leases away from the private "traction companies." This was a campaign plank that, upon re-election, he continued to propound over WNYC in its first months on the air in 1924. The use of a tax-supported broadcaster for partisan politics, however, brought sharp criticism of the neophyte public radio station and veteran Mayor, dogging him for the balance of his administration.
Mayor Hylan is pictured here with (l) with Plant and Structures Commissioner Grover A. Whalen (r) in the new WNYC studio July 9, 1924, our first full day of broadcasting. (Photo by Eugene de Salignac and courtesy of the NYC Municipal Archives Collection)
Of course, there are limitations to a 10-inch disc with wide groves spinning at 78 rpm. A little less than three-and-a-half minutes is indeed a Tweet's worth of space when compared with the full speech. So, absent from the Mayor's recorded version is a somewhat humanizing touch found in the original remarks that couldn't possibly have been delivered in a monotone, unless Hylan was really a zombie. Defending his education policy, Hylan said:
"I admit a lack of those graces that wealth or ample leisure in youth make possible. My father and mother gave me the best education in an elementary school that they could afford, but as the oldest boy in a large family it was necessary for me to go to work at an early age to help support the younger children...The difficulty I experienced in fitting myself for the career I desired has made me keenly realize that the public schools are of the most vital importance, especially to the children of the poor..." [2]
It is also worth noting that in both the recording and original speech, Hylan slips in an appeal to the city's newest voters: women. Once women won the right to vote just a year earlier with Congress' passage of the 19th Amendment, [3] Hylan says, "In the conduct of municipal affairs, the women of this city have been a most potent factor. This administration acknowledges the splendid and efficient service which they have rendered." Hmmm. Imagine a candidate for mayor saying that today.
[1] Hylan, John F., "Speech of Acceptance on His Renomination as Mayor," Okeh Record, General Phonograph Corporation, New York, 1921.
[2 ] "Takeover Subway, Keep a 5-Cent Fare, Is Hylan Platform," The New York Times, October 6, 1921, pg. 1.
[3] New York State granted women the right to vote in 1917, one of the first to do so.
Audio courtesy of the NYC Municipal Archives Collection.