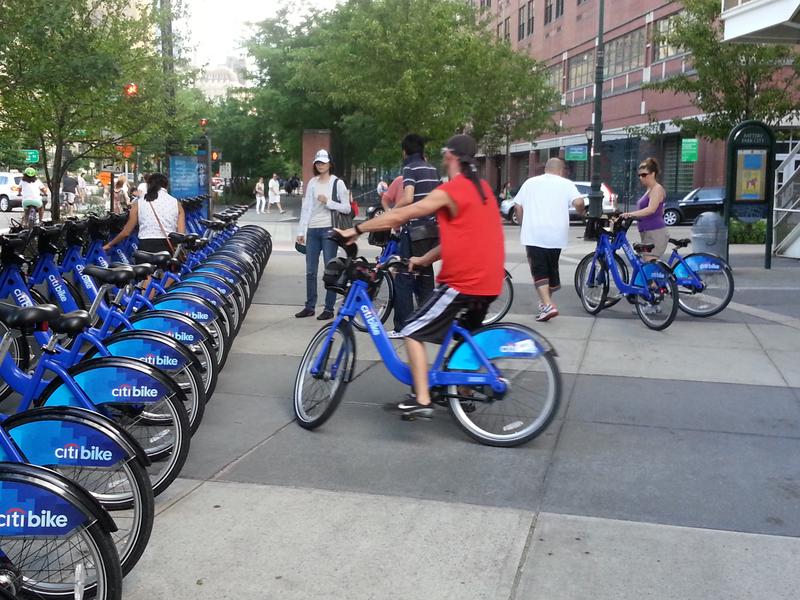 It's been one month since NYC launched Citi Bike, the new bike sharing program, and to mark the occasion the city issued some glowing user statistics. (See bottom of post) Meanwhile, a new poll of likely voters shows New York City's new bike sharing program is widely popular in the city.
Fifty percent of New Yorkers support the new program, with just 20 percent opposing bike share, according to The Quinnipiac University poll. "Every age, income, party, gender and educational group supports the bike program," the researchers wrote.
Voters over 65 years old are the only group that doesn't want bikes in their neighborhood, with 40 percent opposed and 37 percent in favor, according to the poll.
There was some differences by race though. More white voters have made up their mind, and more support Citi Bike: 57 percent in favor, 22 percent disapprove with just 20 percent saying they don't know enough. (Compare that to these figures: Black voters: 43 percent in favor, 18 percent against, 38 percent haven't heard enough; Hispanic voters: 47 percent approve, 17 percent disapprove, 33 percent haven't heard enough).
Bike lanes are also popular.
New York has installed over 400 miles of bike lanes since Mayor Michael Bloomberg took office; some of those lanes have led to legal fights and bitter spats between neighbors and politicians. According to the survey, the bike lanes are a fact of life: 67 percent of people want to keep them, or add more lanes in their neighborhood, compared to 28 percent of people who want fewer bike lanes.
The poll also looks at who wants Citi Bike in their neighborhood. In response, most people said yes or that they didn't know enough yet. As Azi Paybarah of Capital New York summed up the findings, "bike-share program leads to widespread IMBYism."
Also out today are the first month's official user statistics. Citi Bike has not openly released user data yet as it sorts out glitches and growing pains, but the city's Department of Transportation is choosing their favorite data to publish. Here's what they sent to reporters about the first month's usage:
Number of trips (as of 5 p.m. June 26): 528,991, more than the population of Miami, Atlanta, New Orleans, Pittsburgh, Oakland, Sacramento and hundreds of other US cities. 


Number of trips in the last seven days:200,823, roughly equivalent to the entire population of Akron, Ohio, or Des Moines, Iowa. 


Total annual, weekly and daily subscriptions purchased: 113,692, nearly the population of Berkeley, California; 50,000 annual members, equal to the population of Hoboken.  

Estimated miles traveled to date: 1.28 million, the equivalent of 50 trips around the Earth.  

Estimated number of calories burned since launch*: 50 million, the equivalent of 91,000 Big Macs or nearly 52,000 entire pints of Ben and Jerry's Cherry Garcia ice cream.  

Average number of rides on each of the 6,000 Citi Bikes: 88  

*assumes an average of 40 calories per mile biked
For context, check out London's membership and ride stats. Barclay's bikes launched at the end of 2010. It has a slightly different way to count members, though if you compare NYC's annual members with London's membership of 180,000, it looks like NYC is catching up quickly. London signed up 1,057 new members last month, according to the data posted online. It will be interesting to see how the new membership charts in NYC. Something to watch.