Fear of Snitch Label, Witnesses Remain Silent in Teen's Unsolved Murder
It's been a year today since 14-year-old Akeal Christopher was shot dead after leaving a friend's party in Bushwick, Brooklyn — but still no arrests have been made in the case.
There were plenty of friends and a younger family member who witnessed the shooting at the corner of Cornelia and Evergreen, but no one has shared any information with the authorities.
"I believe blood is on the hands of everyone that knew something and did nothing," said Akeal's mother, Natasha, at a recent anti-violence meeting in Brooklyn. "I could look into these kids' eyes and I can tell they are lying."
The fear of retribution and mistrust in the police are two of the reasons people say they don't come forward to report crimes. And observers say the practice of not snitching is an insidious as it ever was.  
"There are so many unknown cases — cases that I never see, crimes that are not reported," said Mariella Herring, who heads the gang violence bureau with the Queens District Attorney's Office. "It's mind-boggling."
She said it's next to impossible to measure all the cases that go unsolved because witnesses don't want to come forward, but she says it's a big obstacle for district attorneys and others dedicated to solving and prosecuting crimes.
But some see keeping your mouth shut as the only option.
In Far Rockaway, Queens, Shikara Granville's 17-year-old son was killed by gunfire six months ago but he didn't share concerns about his safety with anyone.
"You know how many times Xavier probably been threatened that he was going to get killed?" she said incredulously. "He had to wait to see if it happened."
But Granville herself grew up with an understanding that if you come forward you pay the price: "No one wants to be labeled a snitch," she said
At a community forum this month in Queens, advocates and law enforcement did their best to convince a small crowd of mostly school-aged kids that there's another way.
"Who doesn't want you to snitch? The people that have most to lose," said NYPD assistant commissioner Kevin O'Connor, who heads the department's juvenile justice division and challenged the assembled youth to make their communities safer.
One of those kids was 13-year-old Jarick Giles.
"I witnessed my friend being bullied a couple of times at first I didn't say anything," he said. "But when people started picking on him I spoke up it made me feel really good about myself. He didn't want me to say anything because he said it was snitching, but I learned that snitching is different than we portray it to be."
That's the kind of attitude change Natasha Christopher said she hopes will continue. She's holding a vigil on Thursday evening to mark the year anniversary of her son's murder, on the street where he was shot.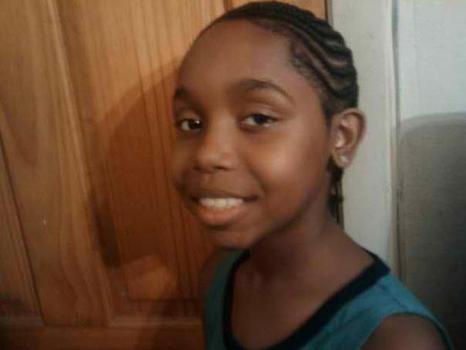 of