At Stonewall, Rulings on Gay Marriage Draws Tears And Cheers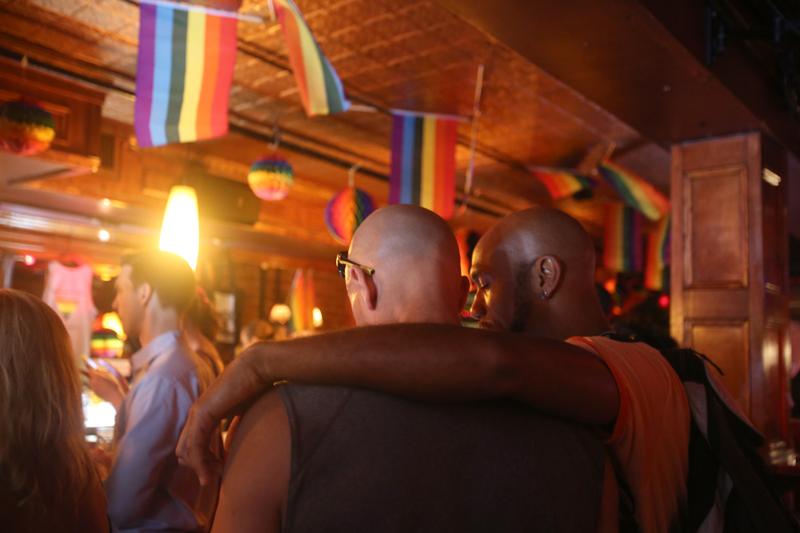 There was cheering and Champagne toasts at The Stonewall Inn as the Supreme Court struck down the Defense of Marriage Act, ruling that married same-sex couples should get the same federal benefits as heterosexual couples.
Patrons flocked to the historic site thought to be the birth place of the gay rights movement in New York City on Wednesday morning.
WNYC's Anna Sale described the scene:
By 10 a.m., there were tears and cheers and Champagne being popped as word got out about the DOMA decision. People were chanting 'Thank you, Edie,' for Edie Windsor,  the New Yorker who was the plaintiff in that DOMA case. And as CNN was blaring at the Stonewall Inn and Wolf Blitzer was explaining that the federal constitution now sees marriage as marriage for states like New York, people just broke down in tears.
Jo-Ann Shain and Mary Jo Kennedy, with their daughter Aliya, celebrate the Court's decision to strike down DOMA outside of the Stonewall Inn on Wednesday. They were one of the plaintiff couples in the case legalizing marriages for same-sex couples in New York.
- Jenn Hsu
What the Rulings Mean for NY, NJ
With DOMA gone, same-sex couples married in New York State are now legally recognized exactly like their heterosexual counterparts. This means they can file joint taxes and claim social security benefits, for example.
Across the Hudson, New Jersey same-sex couples are in a different position. That state only recognizes civil unions. The court's decision makes it clear its ruling only relates to legally wed couples. For couples in New Jersey, today's decision by the court means nothing has changed on the federal front. Same-sex marriage advocates are already saying they expect a wave of states to move towards marriage laws in the wake of the court's decision.
New Jersey is one of nearly a dozen states that offer some form of legal recognition for same-sex couples, but falls short of legal marriage.
- Colby Hamilton
(Photo: Desmond Charles and Wong Yung Onn, tourists from Singapore, got married at City Hall a day before the SCOTUS ruling and came to Stonewall to await the decision. Jennifer Hsu/WNYC)
Reactions From the Region
It was an emotional day for many New Yorkers - including members of the City Council - following the Supreme Court's ruling on same-sex marriage.
WNYC's Arun Venugopal reports that Council Speaker and mayoral hopeful Christine Quinn and members of the Council's LGBT Caucus were all smiles at a press conference on Wednesday.
"They were a little giddy and I think a little less self-conscious in a way that I've never seen before from some of the members of the LGBT caucus in the Council. But there were also some emotional moments including from Speaker Quinn who said, through tears, that it was indescribable to feel more of a citizen of the United States, to be more fully an American and to have your family fully recognized."
Meanwhile - NY Governor Andrew Cuomo called the rulings "breakthrough decisions" that are a "major step forward" to marriage equality.
City Council Speaker and mayoral hopeful Christine Quinn applauded the decision, saying "it has been a strong and steady march towards light, towards equality, and towards justice for all."
Mayor Michael Bloomberg says the decision "brings us another step forward in the march of freedom, a journey we must never stop traveling."
NY Senator Charles Schumer says the Supreme Court "did the right thing here" — but knocked the Court for its ruling that struck down a key part of the Voting Rights Act.
NJ Senator Robert Menendez says he's "thrilled" the Court took a "strong stand" for marriage equality.
- Arun Venugopal