SchoolBook
State Commission Proposes Broad Changes to Education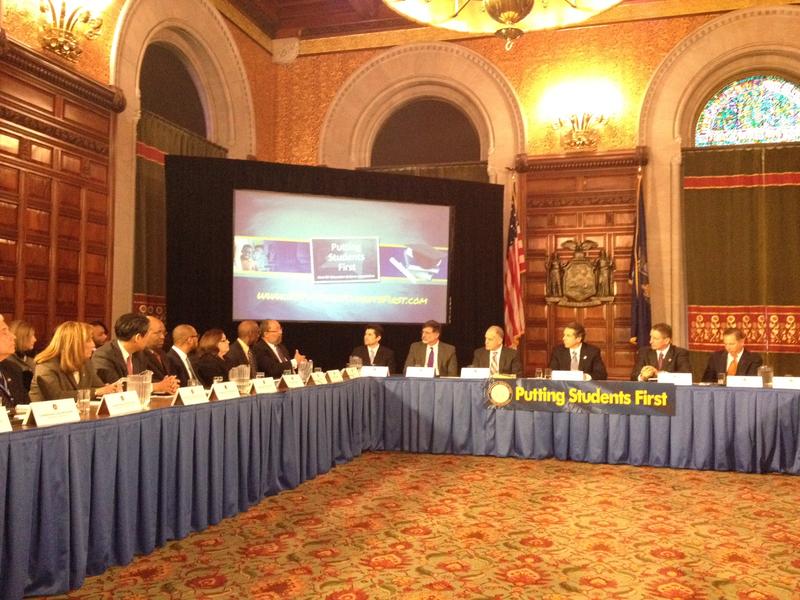 A longer school day and more pre-kindergarten programs are among the recommendations released Wednesday by Governor Andrew Cuomo's appointed education commission. While Cuomo praised the "bold" and "fundamentally changing" recommendations, he also expressed concern about their potential costs.
"Frankly it's going to be a question of money," he said, at a meeting with the commission members in Albany. "That's something that we're going to have to weigh when we look at the overall financial scene." The governor added that the recommendations would inform his State of the State speech later this month.
The 25-member commission was chaired by Richard Parsons, the former chairman and C.E.O. of Time Warner. After 11 public hearings around the state and research, he said the panel determined that the school day and school year should be longer, and children from disadvantaged backgrounds should begin their education earlier, with all-day pre-kindergarten.
"Get them sooner, keep them longer and do more with them when you've got them," he said.
Its eight key recommendations are:
—Increasing access to early education through high quality full-day pre-kindergarten programs for students in school districts with the highest needs.
—Restructuring schools by integrating social, health and other services through community schools to improve student performance. The report cites the Harlem Children's Zone and Cincinnati Community Learning Centers as examples of programs that can support students inside and outside schools.
—Begin restructuring the school day and year by extending student learning time with academically enriched programming. The report doesn't say how much longer the school day should be but it says, "Many other nations and states have begun to transform the length of the school day and year to extend learning times for students. To compete in the global economy, New York must do the same or our students will be left behind."
—Recruiting and training high quality teachers. The report recommends raising the bar for students applying to teaching programs at CUNY and SUNY to a minimum 3.0 grade point average, expanding alternate certification programs, and creating a career ladder for teachers.
"We called it the F-word. The F-word stands for Finland," said chairman Richard Parsons, noting that the Northern European country recruits only its top college graduates for teaching.
—Increased use of innovative technology, through the use of competitive grants awarded to school districts. However, the commission warns, "While integrating technology is important, the state should encourage evidence-based programs that are evaluated for quality."
—Building better bridges from high school to college and careers. The commission recommends more early college high school programs and career and technical education programs "by leveraging public-private sector partnerships and funding." It cites the P-TECH High School in Brooklyn, which collaborates with IBM and CUNY, as an example.
—Consolidating smaller school districts and creating more regional high schools to avoid replicating services.
—Greater transparency, to see which programs are working, through a performance management system.
The commission will release its next report in the fall when it may delve into more specifics, including the controversial issues of teacher quality and evaluation.
Karen Dewitt contributed reporting from Albany.