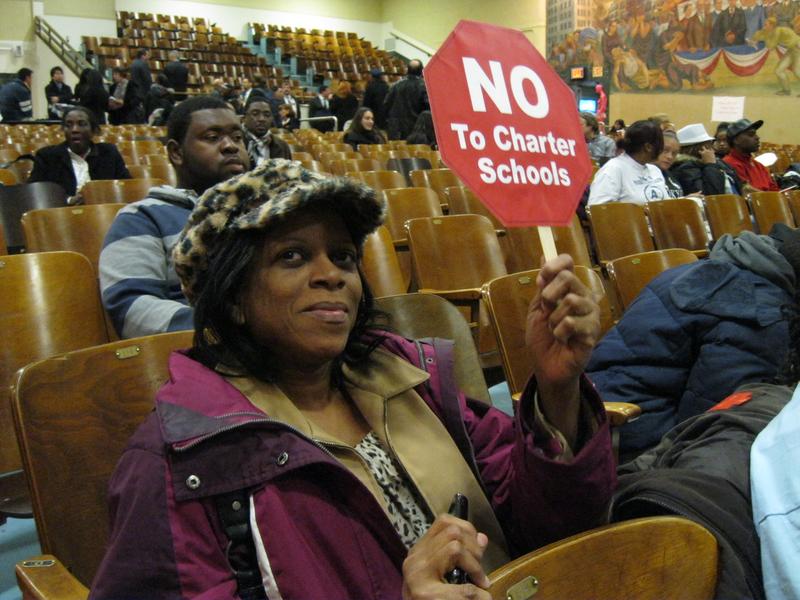 The city's Panel for Educational Policy voted to approve nine new charter schools Thursday night, bringing the city closer to Mayor Michael Bloomberg's goal of opening a total of 200 charters. The nine new schools will be co-located in existing school buildings.
Success Academy Charter Schools will open six of the nine new schools: one in the Bronx at P.S. 146 Edward Collins; three in Brooklyn at Dr. Susan S. McKinney Secondary School of the Arts, P.S./I.S. 138, and Brownsville Academy High School; and two in Manhattan at the High School of Graphic Communication Arts building and the other at Washington Irving's campus near Union Square.
Another charter, Citizens of the World, will open in John Ericcson Middle School 126 on the Greenpoint-Williamsburg border. The proposal for that school caused some controversy, when opponents accused the charter of deliberately marketing itself to upper- and middle-class families.
The panel also voted to approve a resolution to keep school lunches at the current price of $1.50. The mayor last month proposed raising the cost of school lunches by 67 percent, to $2.50, to help close the city's budget gap. In what seemed like a surprise move, Chancellor Walcott voiced his support for the resolution.
"We should talk further with the Office of Management and Budget as well with the City Council," said Walcott, "and conversations are taking place with them currently."
The Education Department said it would need to further review the proposal before raising prices.
The bulk of the meeting, however, took the form of impassioned pleas from both sides of the charter school and co-location debate.
Students and school staff from Brownsville Academy High School, a transfer school, begged the education department to understand the need for more classroom space in a school for students at risk of dropping out. Their school is successful, they said, because they can offer some classes for just ten students at a time.
The principal of P.S./I.S. 138, Marie Chauvet-Monchik, spoke about her fear of losing space for her pre-K through eighth grade school if Success Academy were to open in her building. The Crown Heights school has received an "A" on its progress report four years in a row, and Chauvet-Monchik credits the school's success with a wide array of electives and a separate track for gifted students.
"They're asking me to give up 15 rooms in the first year," she said, followed by an additional two rooms the second year and three in the third, so that Success Academy could grow. She said there are not 15 empty rooms to offer a new school. Rather, she would have to give up computer labs, science labs, foreign language classrooms and a reading lab, among other spaces.
She said that much of her frustration, though, stems from the fact that the Education Department put a charter school in the building in 2008, but the school was taken out after one year because officials deemed that there was not enough room for it in P.S. 138's building.
Most of the parents who spoke on behalf of the new charter schools, primarily parents of students at Success Academy schools, did not directly address the proposed co-locations at hand, but rather spoke of the merits of charter schools in general and defended Success Academy from the vehemence against it by other audience members.
No, charter schools do not counsel out students with special needs, one parent said. They do indeed accept many English language learner students and put them on a fast track to reading, a teacher asserted. A father said that Success Academy does coexist well with other schools, and he cited his friendships with parents from other schools in the building to prove it.
Fred Campbell, who lives in Bedford-Stuyvesant and is the primary caregiver for his grandson, gave glowing praise to the Success Academy school that his grandson attends in the neighborhood and to the idea of having more school choice options. When he spoke, in a Santa hat and with his grandson at his side, he expressed displeasure with the tone of the evening.
"All I hear is that the panel is putting us against each other. The panel ain't got nothing to do with that," he said. "We putting each other against each other."