SchoolBook
City Parents Say Talking about Newtown Shooting is Difficult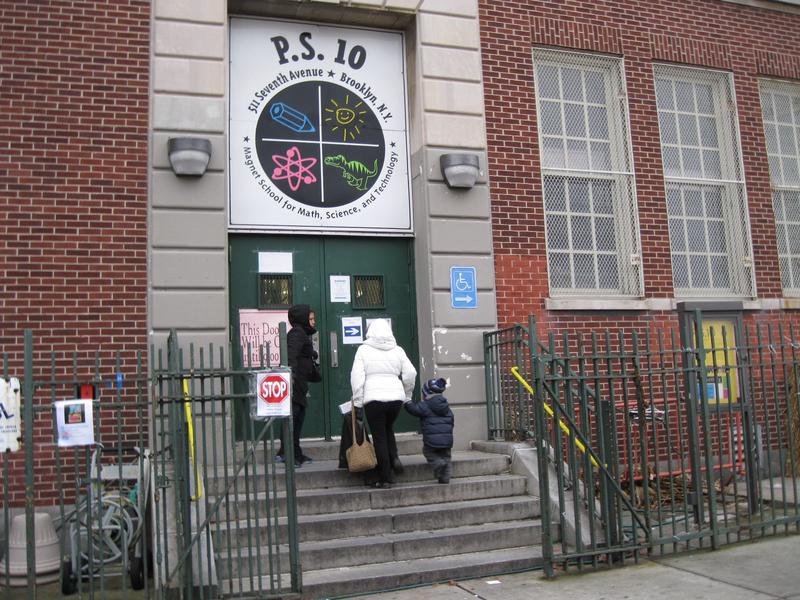 John Hennegan didn't want to broach the subject over the weekend.
"I'm kinda waiting until they ask me," he said, while waiting for his two children outside of P.S. 10 in Park Slope. They're in kindergarten and 2nd grade.
"I don't feel it's one of those instances where I want to initiate conversation about it if they don't really know. If they ask me -- absolutely, there'll be a conversation."
The school advised teachers not to dwell on the subject but to speak with any students who wanted to talk, and to encourage parents to do the same. Another parent, Laura -- who didn't want to give her last name -- said her third grade daughter is aware that children were killed at a Connecticut school, and did ask about it over the weekend. Laura said she responded by stressing that P-S 10 is a safe place.
"What she brought up with me was, 'we're going to be okay, we know how to prepare. We've been taught lockdown.'"
The school was part of a pilot project last year to practice "lockdown," a new safety protocol. Classroom doors are locked, and students gather in a corner and stay quiet until they get an all-clear.
Maribeth Dono has a son in kindergarten and a daughter in fourth grade. She remembers learning about the new lockdown drills at a PTA meeting last year, and initially thought they might be extreme.
"I was a little worried because it seemed to me that if somebody told me that we're trying to be safe -- there's somebody dangerous in the building, that that would freak [the children] out."
But Dono said it was just the opposite, and teachers helped students feel comfortable. With her family, the drill became a starting point for a conversation about the school shooting over the weekend.
"I wanted them to feel like they were okay," she said. "So I told them, they know what to do, that the teachers know what to do, that they know how to keep them safe because I feel that they really to feel that way."
Starting this school year, all public schools in New York City must practice lockdown drills. They also practice evacuations and something called a "shelter-in," where exits are secured but students continue class as normal.
At P.S.-I.S. 327, in Brownsville, 13 year old Elisha Ramierez said her class went over evacuations and lookdowns Monday in the event of a school intruder.
"We learned that if we're in the hallway to find the closest person or a classroom nearby and stick there," she said. "We learned that if the teacher isn't in the room and we have the key to lock the door, and if the teacher tells us to open the door don't open it because it might be the person behind telling them to do that."
She said her class also made memorial Christmas angels to honor the youngest victims of the Newtown shooting and decorated candles for the adults.
Elisha, who's the oldest of five children, said after she heard about the shooting her mom tried to reassure her and it was on both of their minds all weekend. It was also on the mind of John Chapman, whose four year old daughter attends P.S. 284 nearby. "I just tried to explain it but not be graphic about it," he said.
But he says the topic would have come up soon enough even if Newtown never happened. Fear of crime permeates Brownsville, where 13 year-old Ronald Wallace was shot to death at the end of August. Chapman said his little girl can already identify the sound of gunfire.
"Now she knows 'Daddy they're outside shooting,'" he said.
Lifelong resident Matthew Booker agreed that he has no choice but to discuss the possibility of violence with his four and 11 year-old daughters. He said the Newtown shooting was only the most recent reminder.
"They hear the gunfire where they live at all the time so it's a constant topic -- especially out here in Brownsville," he said. "A constant topic. I mean we're walking to the store and I teach my kids to be alert. They ask me why I watch everything so much and I had to let them know you need to watch everything because at a moment's notice you may have to run, duck or just get in the defensive posture."
Booker said it's getting harder reassure his children that they'll be safe. His 11 year old already knows two kids who have been shot.