SchoolBook
Using Hip Hop to Develop Young Scientists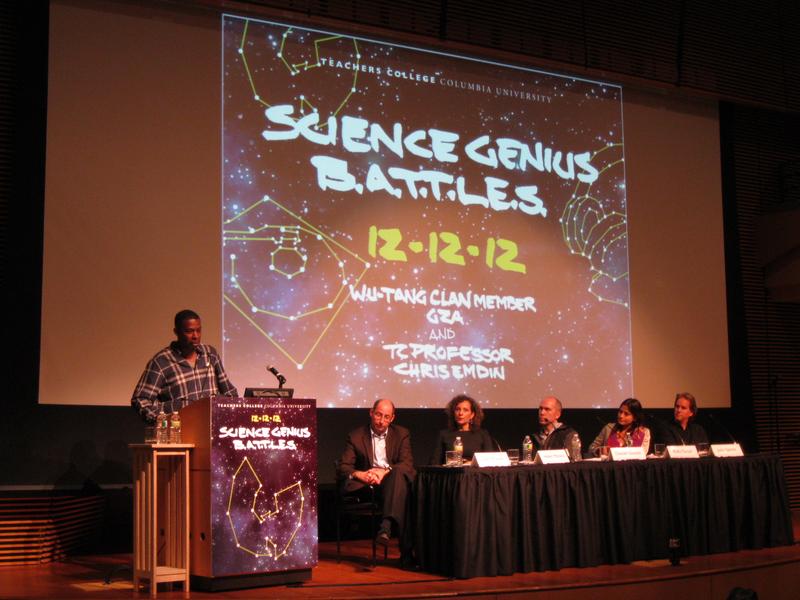 Students from 10 New York City high schools will have the chance to prove both their mastery of science concepts and their lyrical skills in a hip hop battle backed with the star power of GZA, a member of the rap group the Wu-Tang Clan.
Christopher Emdin, an assistant professor of science education at Teachers College, teamed up with GZA and the website Rap Genius to create the contest, called the Science Genius BATTLES. (BATTLES is an acronym for Bringing Attention to Transforming Teaching, Learning and Engagement in Science.)
They launched the pilot project Wednesday night at Teachers College on Columbia University's campus. Using hip hop in a science classroom makes perfect sense, said Emdin, because "hip hop is inherently scientific."
Like scientists, he said, MC's require keen observation skills, the language to vividly describe an environment and an ability to think deeply and analytically. Emdin calls these attributes a general "science-mindedness," which can translate to an intellectual curiosity across all subjects.
The problem, said Emdin, is that there can be a disconnect between "school science and real science," and many students who could potentially be captivated by atoms and the atmosphere are turned off by classroom lessons. Low-income students of color, he noted, are particularly underrepresented in science and engineering disciplines.
"And so the work is to find out what is it that interests them, what is it that they are fanatic about, and allow that to be incorporated into what happens in school," he said.
GZA, whose given name is Gary Grice, calls himself "a science enthusiast," but admits he was one of those students who quickly became disinterested in the classroom. He dropped out of high school in the 10th grade.
His enthusiasm was revived when he delved into questions of physics for a new album. He met regularly with research scientists from institutions like M.I.T. and NASA. His inquiry made him want to inspire New York City students to find their own fascination with the universe, and to build self-awareness and confidence. Writing rhymes, he said, can help cultivate all of those things.
"One thing I try to impart in the classroom is that the rhyme must be clear, eloquent, witty and clever," said GZA, who lamented that demonstrating intellect is not the goal of all hip hop artists.
"I challenge students to make sense of complex information, while maintaining high standards of serious lyricism."
The competition, which GZA likened to a spelling bee, calls for students to write raps on topics in line with state science learning standards. Students at each participating school will compete against each other. Then representatives from each school will go head to head in the spring, leaving one student standing. Their rhymes will be judged on poetic and musical appeal, along with the quality of the science content.
The participating schools for the pilot project are Bronx Compass High School; English Language Learners and International Support Preparatory Academy (ELLIS) in Marble Hill, the Bronx; The Marie Curie School for Medicine, Nursing, and Health Professions in Jeromes Park, the Bronx; Park East High School in East Harlem; Hillside Arts & Letters Academy in Jamaica Hills, Queens; Brooklyn Community High School of Communication, Arts and Media in Bedford-Stuyvesant; Validus Preparatory Academy in Claremont, the Bronx; Urban Assembly School for the Performing Arts, in Harlem; August Martin High School in South Jamaica, Queens; and Arts & Media Preparatory Academy in East Flatbush, Brooklyn.