SchoolBook
Panel Debates Bloomberg's School Reforms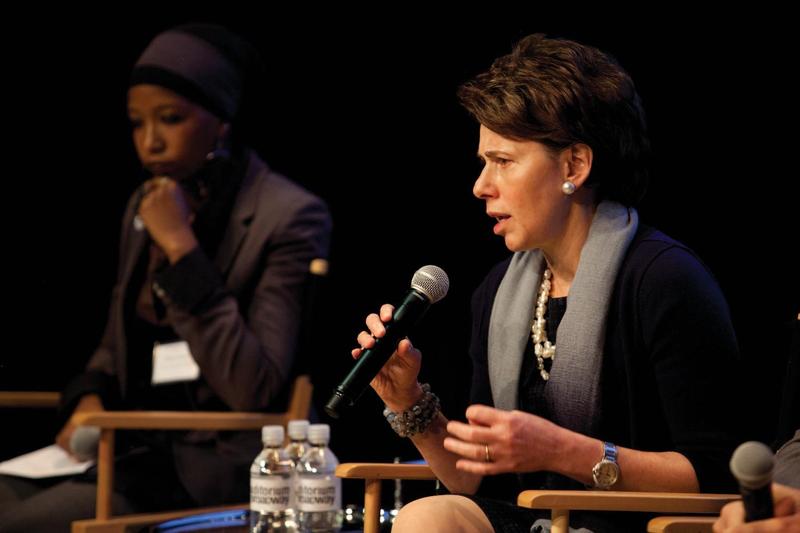 A panel of educational stakeholders and officials debated the legacy of Mayor Michael Bloomberg's reorganization and reform of the school system on Wednesday morning as they considered the landscape facing the city's next mayor.
Zakiyah Ansari, the advocacy director of the Alliance for Quality Education said parents must have a place at the table earlier and more often when changes are under consideration for the city's public schools. She also wanted what she considered the villification of teachers to stop.
"What are we doing to support teachers in schools? The competition internationally is beating us out on every level and one thing they don't do is bash teachers. They support them overall," she said. "That's what has been missing in this conversation, not just for teachers but for parents."
The Department of Education's Chief Academic Officer, Shael Polakow-Suransky, said he has tremendous respect for the city's teachers. But he stood by the use of rubrics and measurements as tools to assess students and teachers.
"I think having a discussion about teacher quality and holding teachers accountable does not equate to not supporting teachers," he said. "I think that you need to do both. There needs to be a process to give teachers professional development, give teachers feedback on their practice."
On the topic of measurements, Merryl Tisch, the chancellor of the state's Board of Regents, and Polakow-Suransky both praised the new Common Core state standards. But they acknowledged test scores are likely to drop this spring when students take the first new state exams aligned with the Common Core.
"We should make no mistakes about this. This is tougher. It is asking more of our kids," Polakow-Suransky said, citing the state of Kentucky which saw a 30 percent drop in student proficiency on its first round of Common Core-linked tests.
"We would not be surprised if we saw the scores come down," Tisch said, declining to predict by how much. "If as a result of a new standard we see a temporary dip in the performance on standardized tests, I would welcome that temporary dip as a way of taking us to a place where we know we really need to go."
Representing the parents' perspective on the panel, Ansari said she was disappointed that parents weren't brought into the conversation about Common Core earlier. Getting input from more of the people affected, including parents and students, could have helped iron out problems before they occurred, she said.
"It's great that we're going to give kids harder texts and everything else but if schools don't have libraries or if they can't buy the text books or they can't buy the books for the students then it becomes an issue," she said. "In many of the schools, and the community I live in, that's an issue."
Moderator Beth Fertig asked the panelists whether the Bloomberg administration had put too much emphasis on restructuring the school system at the expense of academics. Despite increasing the four-year graduation rate by at least 15 percentage points, to more than 60 percent, just 29 percent of students are "college-ready" based on their Regents test scores.
Polakow-Suransky described a two-step process of reform, in which the city had to get more students to graduate before raising the bar, because high school drop-outs have the poorest job prospects of all.
"Now we have to get together and figure out how to deliver. And I think we have a lot of things happening in the system moving us in the right direction. So changing the curriculum, improving the quality of the assessments, improving the quality of the teacher evaluations, training guidance counselors, exposing kids to the process of applying to college much earlier. All of those are steps that are underway and I think will yield much better results. And we can't stop until we get there."
Micah Lasher, executive director of StudentsFirstNY, and the city's former legislative director, said it's important to remember that the Bloomberg administration started with an antiquated bureaucracy and stagnant graduation rate.
"It took some time to go from a culture that had no focus whatsoever on outcomes to one that really honed in on what were the outcomes that most mattered," Lasher said. He rejected what he called false choices in the debate on education reforms.
"It can both be true that progress has been made and that we are nowhere near where we should be," he said.
For the full discussion, listen to the audio above, and keep the conversation going with your comments below.